After a trip to see the circus yesterday we needed a good place to eat that could handle kids. Three under the age of five to be exact! I had heard the Jason's Deli was offering Gluten Free bread and I knew the kids would love the ice cream.
When I go to the register to order I asked for the Gluten Free menu. The nice guy behind the register handed me a 1 page menu. It listed salads, their baked potato and a make your own sandwich option that had all the
GF items
. He also said I could have any regular sandwich with GF bread. I ordered the Deli Club Sandwich with GF bread and baked chips in a bag. The guy taking my ordered asked if I was allergic to wheat – I said yes (it was easier than trying to explain what Gluten means). He said that he would ask the person making the sandwich to put on clean gloves! I was impressed.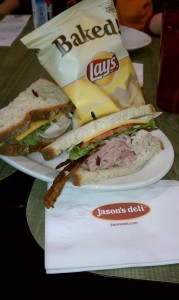 The sandwich came out great! When I took a bite I was blown away by how good it was! It tasted just how a Club sandwich should taste. After eating I asked the manager what type of GF bread they used because it was so good…. it was
Udi's
of course!
Nick had a Chicken Panini and Cali enjoyed the kids mac-n-cheese and some of my ham.
The meal was perfectly ended with a cup of Vanilla soft serve – also Gluten Free!