With a toddler fast food is part of life. Trying to sit down at a nice restaurant can take too long and fast food restaurants offer more for kids. Examples: a toy comes with their meal, many stores have play areas, and you don't have to pay $6.00 for a meal they won't eat. No we don't eat fast food every week but it does happen.
For lunch today we ventured to McDonald's. This was my first Gluten Free visit. After doing some digging online I confirmed that the fries are safe!


It is with great sadness that I update this post.
McDonald's fries are NOT GLUTEN FREE!
Even though they are cooked in separate friers they are seasoned with WHEAT. This is from their website…

Potatoes, vegetable oil (canola oil, hydrogenated soybean oil, natural beef flavor [wheat and milk derivatives]*, citric acid [preservative]), dextrose, sodium acid pyrophosphate (maintain color), salt. Prepared in vegetable oil (Canola oil, corn oil, soybean oil, hydrogenated soybean oil with TBHQ and citric acid added to preserve freshness). Dimethylpolysiloxane added as an antifoaming agent. CONTAINS: WHEAT AND MILK.
*(Natural beef flavor contains hydrolyzed wheat and hydrolyzed milk as starting ingredients).
What I ordered:
Angus Deluxe Cheeseburger – no bun
Fries Not Gluten Free – Don't order!
Bottle Water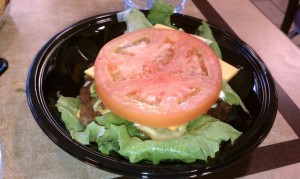 They were a little confused by the whole no bun thing but in the end they got it right. They put my sandwich in a salad bowl and I ate it with a fork and knife!
I'm not sure I would trust McDonald's to pull this off in the drive thru so I think I will have to go in to make sure I get the right thing.
Gluten Free dining at McDonald's – a Success!