I had a lunch meeting at Panera this week. I did my normal internet and blog search for ideas on what I could eat that would be safe. I decided to go with the Fuji Apple Salad without the gorgonzola cheese. It came with super yummy apple chips.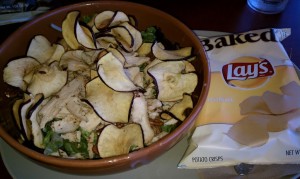 I ate the whole bowl and ate the baked Lay's for afternoon snacks.
There are some soups that are GT but none are available on Monday.
It was a very enjoyable lunch!