Today I had to travel for work. This traveling just happened to make me go by an Ikea! I love Ikea so if I'm ever within a 30 minute drive I will go. There is so much in there that I can always find something that I "need".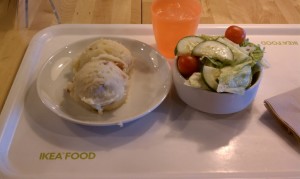 The trip today happened at lunch time with some co-workers. I tried to do some online research on my phone as we walked in the building but couldn't find much. I decided I would go with a caesar salad to be safe. The problem came when all the caesar salads were pre-made with croutons. The nice man behind the counter pointed me over to the side salads without croutons. They also had some yummy looking mashed potatoes. After grilling the nice man about what went in them I decided on the salad and the mashed potatoes. Since I didn't know what brand of salad dressing they used I skipped it. I find that a little salt and pepper can make a salad edible in a pinch.
They do have a Gluten Free dessert available called Almondy Daim. It is an Almond chocolate cake.
I didn't get a chance to try it this time. But it did look good.
Anyone else have suggestions on what to eat that is Gluten Free at Ikea?