Gluten Free desserts don't have to be boring or bland! There are lots of options. I'm always looking for fast and easy ways to make Gluten Free dishes so pre-packaged baking mixes are a big help! Whole Foods had Pamela's Brownie Mix on sale a few weeks ago so I picked up a couple bags. Not wanting to make just plain brownies I went to the pantry and found marshmallows and nuts – Rocky Road Brownies!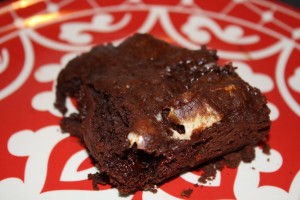 What you Need:
1 16 oz bag of Pamela's Brownie mix
1 egg
1/2 cup oil
1/3 cup water
1 1/2 cup marshmallows
1 cup nuts (pecans or walnuts)
How to Make Them:
Heat oven to 350 degrees. Lighted spray 8×8 pan. Mix all ingredients together. Pour into pan and bake for 18-20 minutes. When a toothpick comes out clean they are done!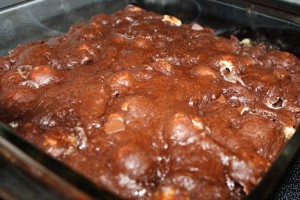 *If you have a nut allergy just omit the nuts*
These tasted awesome! My Gluten eating hubby loved these!
Pamela's baking mix comes with chocolate chunks in it but if you use the Betty Crocker Brownie mix you may want to add some chocolate chips.
We ate ours hot out of the oven with cool whip! Then my hubby ate the rest for breakfast and snack.
This recipe is linked to Slightly Indulgent Tuesdays and Gluten Free Wednesdays!