The hubby and I ran away for a night to Charlotte, NC for a quick getaway before the babies arrive. The toddler played with Grandma so it was just the 2 of us.
After tasting the most amazing Gluten Free pizza at the Expo this past May I knew Fuel Pizza was a must visit for dinner while in Charlotte. We decided to go to the original location for the full experience and it happened to be about 7 minutes from our hotel.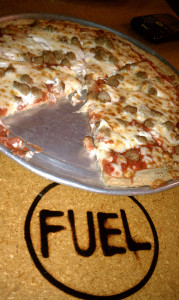 They have a big Gluten Free menu with AMAZING pizza! The crust is thin and has a great taste. It isn't too sweet like some Gluten Free pizza dough. The Gluten Free pizza only comes in a 12 inch size pie.
I decided to go with the Gluten Free Lasagna Pizza – delicious! The ricotta cheese added a nice smooth sweetness. The sauce and cheese were perfect.
I would like to say I shared it with the hubby or saved some for a snack later but the truth is I ate the whole thing by myself!
If you are ever in the area I strongly suggest giving Fuel a try for super yummy Gluten Free pizza!