I'm a proponent of breakfast for dinner! It's easy, it's fast and it's filling. Tonight I needed something that was quick and easy so breakfast for dinner was the winner. I decided to look around for a casserole so that we could have leftovers for later in the week. I found this recipe and made some basic changes.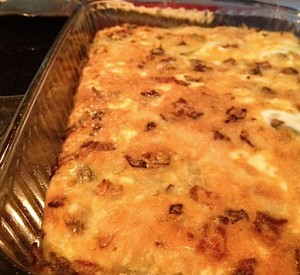 What You Need:
12 slices of bacon – chopped
1/4 onion – chopped
8 eggs – beaten
3 medium potatoes – shredded
2 cups cheddar cheese – shredded
2 slices of swiss cheese – cut up
4 oz cream cheese – softened
1 tbsp butter
Salt & pepper
How to Make It:
Heat oven to 350. Spray 9×13 dish and cover the bottom with potatoes. Season potatoes to taste with salt and pepper and put in oven for 5-10 minutes while you get other ingredients prepared. Melt butter in small sauce pan. Add onion and bacon, cook for 5 minutes. Mix remaining ingredients together in large bowl and add the onions and bacon. Cover the potato layer with the egg mixture and cook for 40 minutes. Let sit for 10 minutes and serve!
It turned out great and my mother-in-law even enjoyed it!
This is easily customized to your families tastes and what you have on hand. Adding some fresh veggies like peppers or spinach would be great.
I decided to use cream cheese instead of the cottage cheese from the original recipe because I'm not a cottage cheese fan and I wanted it to be sweeter.
Happy eating!