The 2012 Gluten Free Expo in Charlotte was AWESOME this year! The venue was much better than last year. There was so much more space to walk around and more vendors to talk to. It was so freeing to be able to walk up to any table and eat whatever they had out because it was all Gluten Free! And boy did I eat my fair share of tasty GF treats!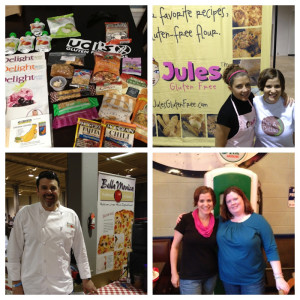 Top Left: my SWAG Top Right: The Famous Jules
Bottom Left: Corbbitt from Bella Monica Bottom Right: Carrie and I at Fuel
For Mother's day I requested a night away from the 3 kids so I could go to Charlotte early Friday, do some shopping and enjoy my time at the Expo. It was a much needed break! I stayed at a nice hotel downtown Charlotte and guess what was directly across the street – FUEL PIZZA! I was honored to be able to meet up with Carrie from Ginger Lemon Girl and her hubby for dinner at Fuel Friday. She is so sweet and caring! We had a great time eating the best GF pizza and chatting. She has a book coming out soon – buy it here!
Saturday I got to the Expo early to get free GF pancakes from 123 Gluten Free and hear some of the awesome talks. Some big names where there like Dr. Alessio Fasano, Shannon Ford (Mrs. USA 2011), and Jules Shepard.
There were a ton of vendors there. It is always good to talk to new companies that have new GF options and taste new products. I also picked up some great coupons that I have already used on a couple of products!
Some of the vendors I loved:
Best Pizza – Of course goes to FUEL. I just LOVE LOVE LOVE their Gluten Free pizza. It is worth the 2 hour drive from my house to get it!
Best Cupcakes – Cupcakistry. She seriously needs to open a bakery somewhere. I would order her stuff for all my birthday parties. I had a salted carmel cupcake that was UNREAL good! I also bought a cake pop – tasty!
Best New Product – Glutino's pita chips. Have you tried these yet?! They would go great with a spinach artichoke dip.
Best Non-sandwich Bread – My Gluten Free Bread Company. He had a very good banana nut bread. I bought a mini-loaf that I ate in the car on the way home.
Best Fun Food Item – Hush puppies from Palmetto Farms. I haven't had a hush puppy in over two years. Their corn meal hush puppy was full of flavor and had a nice crunch.
Best Cake – Mina's Purely Divine had a great pound cake and white cake. They sell mixes and the final products were not gritty at all.
There were also some great restaurants represented like Posana Cafe and Nothing But Noodles.
I talked to just about every vendor and ate way too much food! It was a wonderful expo. I could feel the sense of community among all the people there. We all have this common bond and it made the expo a very comfortable place to be.
Can't wait for next year's event and the same group of people are putting together an expo in Raleigh this August. Count me in!