Last Saturday I had an absolutely amazing experience at Bella Monica Restaurant in Raleigh, NC. With the Raleigh Gluten Free Expo on Sunday Trevor from Bella Monica planned a dinner for Saturday night. Sixteen of us Gluten Free eaters and their family members sat down for a four course meal with amazing wine pairings.
The crowd was so much fun! Jordan and Vanessa from Delight Magazine were there, Jose and Jayme from GFREEK.com, and Nikki Everett who runs the GF Expos.
We started out with assorted bruschetta. I get so excited whenever I can eat actual fresh bed!
Doesn't that just look amazing!
Then we had a Caprese Heirloom Tomato Salad. It was a very fancy salad with very fresh tomatoes and pickled onions. The onions were a first for me and man were they good!
Then came out the famous GF focaccia bread. Looking at it makes my mouth water. I could go to Bella Monica and order the focaccia bread and the house red sauce or "Nana's gravy" and be happy!
For the main course we had Portobello Mushroom Lasagne, Lobster Risotto, and Veal Meatballs with Fontina Polenta.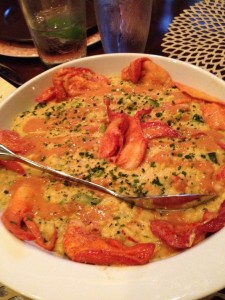 Lobster Risotto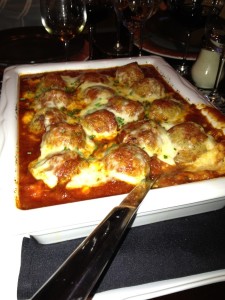 Veal Meatballs with Fontina Polenta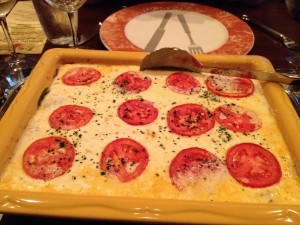 Portobello Mushroom Lasagne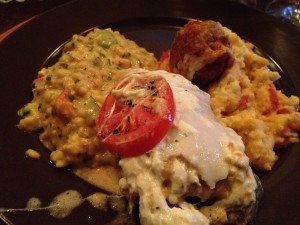 My plate – and yes I did eat it all!
The lasagne and the polenta were my favorites! The flavor was amazing and everything tasted so fresh. You could really taste the various flavor layers for each dish.
We ended dinner with Tiramisu and Creme Brulee. Fantastic! I was just sad the portion of the Creme Brulee was so small.
On top of the food there was a different wine with each course. They even had someone come in and describe all the wines, where they came from and why they chose them for each course. Since I had to drive home 45 minutes I had to stop earlier than I would have liked. My favorite was a 2010 Greco that come with the entrees.
Trevor and Corbitt at Bella Monica know how to do it right! Thanks for an amazing meal and a great experience!