Over the weekend we took a short drive to Hillsborough, NC to visit Hillsborough BBQ. I had heard they could accomodate Gluten Free customers. We waited almost 40 minutes for a table which was a long time when trying to entertain three kiddos! The restaurant is pretty small and can't seat more than 50 people, so go early!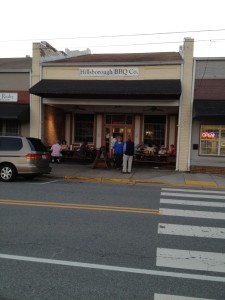 When we sat down I asked our waitress for a Gluten Free menu and she returned with a list of safe items.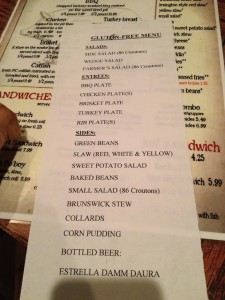 After looking over the options and asking a few questions I decided to go with the brisket plate with corn puddin and the sweet potato salad for my sides. The brisket had a nice smokey flavor but was a little dry. The waitress said none of their sauces where considered Gluten Free because they could have been cross contaiminated. The corn puddin was awesome! Really nice flavor and texture. The sweet potato salad is a cold salad with sweet potatoes and onions in a vinigar based dressing. It was good but I think it being cold threw me off. We did have a small incident when my first plate came out topped with 2 pieces of Texas Toast. But the waitress realized that wasn't going to work and didn't even put it on the table. A couple minutes later a new plate was brought out toast free!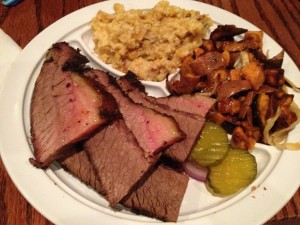 My hubby had the BBQ plate with corn puddin and white slaw. He said it was very good and the house made sauce was amazing! The kids had green beans, mac-n-cheese, fries and hush puppies. I know I win a price for a healthy dinner, but they ate it.

Overall it was a good experience but it didn't wow me. It is always nice to find a Gluten Free menu and a restaurant that uses fresh ingredients. If we go back I will bring some BBQ sauce with me.