There are two things in life that if they weren't Gluten Free I would eat anyway. Those two items are chocolate and red wine. I also prefer to have them together! I have had the opportunity to travel a lot and always seek out good chocolate from the various places I go. When I went to Chicago I didn't think I would discover amazing chocolate, but I was blown away by Pascha. Simon and his team were sampling their amazing chocolate at the GFAF Expo. I have never had such smooth dark chocolate before!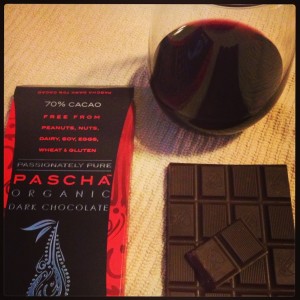 Aside from tasting amazing the chocolate is also free of all 8 major allergens plus Gluten!

Here are the details:
– 100% organic dark chocolate
– Certified fair trade
– Made in a dedicated allergen-free facility
– No GMO
– Preservative free
– Vegan
– Full ingredient traceability
– No artificial additives or colors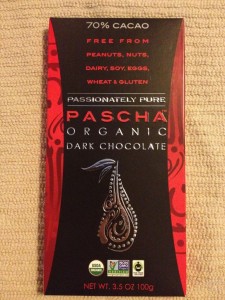 Their mission is to make the purest, safest chocolate without any allergenic ingredients.

They have three levels for their dark chocolate: 55%, 70%, and 85%. The 55% is the mildest and my personal favorite. Simon says they made the 55% for the kids – I choose not to be offended by this:) The 70% is good with a little kick. The 85% was too much for me but I know many of my fellow bloggers liked it the best. Apparently I have a kid's strength for dark chocolate!

I plan to come up with something fun to make with the 70%. I'm leaning toward chocolate chunk cookies!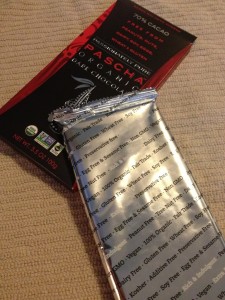 If you want to try this amazing chocolate you just need to check out the store locator to see where you can buy some. If you see a bar in a store don't worry about the price just buy it. Best dark chocolate that I've had – hands down! If milk wasn't a major allergen I would try and convince Simon to make a milk chocolate version for me.

Disclaimer: The products were provided for me to try and review. The pictures and opinions are my own.