Think back to your Gluten eating days…

 

Remember going to an Italian restaurant like Olive Garden and ordering Chicken Alfredo?

 

Remember how smooth, tender and yummy those flat fettuccine noodles were?

 

Remember that amazing cream sauce and the juicy chicken pieces?

 

(It's ok to be drooling at this point)

 

Well I have found a Gluten Free version of that memory that tastes the same if not better!

 

Promise!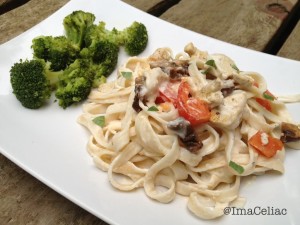 Enter Viviana Gluten Free Pasta.

 

I first heard about this company through twitter.

 

For my first try with their pasta I decided to get the plain fettuccine noodles.

 

When the box arrived I was super excited and knew I had to incorporate them into our weekly menu!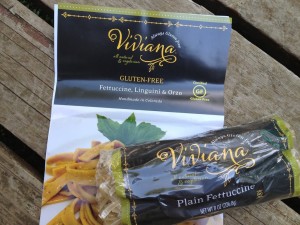 To really get a taste for this pasta I decided to go classic and make Chicken Alfredo.

 

I even picked up a jar of Alfredo sauce from the grocery store.

  But w

hen it came time to cook the meal I had extra time (kiddos were all napping) and I decided to go big or go home!

 

I made my own Alfredo sauce from scratch!!

 

I used this recipe as a guide.  This has a few more steps than most of my recipes but they are so worth it!
What You Need:
2 chicken breasts thinly sliced
3 ozs of grated parmesan cheese
How To Make It:
Boil water and cook pasta as instructed on package.

 

While this is going heat a small skillet over medium high heat with EVOO.

 

Add in veggies and cook for 5 minutes, stirring occasionally.

 

Once done remove veggies from skillet and add raw chicken.

 

Season the chicken with spices of choice.

 

Cook for 5 minutes or until no longer pink.

 

Remove chicken from heat when finished.

 

In a third pot melt the butter.

 

Once it is melted add in the cream cheese, using a whisk, stir together.

 

Once combined slowly add in milk and Parmesan cheese while still whisking.

 

Add in garlic powder, pepper and nutmeg.

 

Continue to whisk until you get everything combined, about another 2 minutes.

 

Remove the sauce from the heat.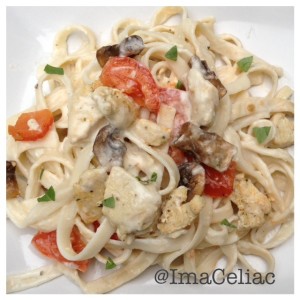 To plate, mix the sauce, veggies, chicken, and noodles together.

 

Garnish with shaved Parmesan cheese and fresh oregano.
This dish is from heaven!

 

I promise you will think you are sitting in an Italian restaurant.

 

The sauce is very flavorful, creamy and smooth.

 

The real star of the meal are the decadent GF Viviana noodles.

 

I was blown away by the flavor and texture of these things.

 

I started dumping treats in front of the kids just so they would sit quietly so I could enjoy this meal!

 

It was that good!

 

The leftovers were just as good the day after.

 

The noodles were not soggy, mushy or slimy.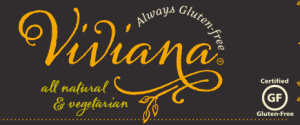 Viviana Pasta also makes linguini, orzo and penne noodles in various flavors like toasted garlic, wild mushroom and tomato basil.  The pasta is Gluten, dairy, soy and nut free.
"From the beginning, Viviana has been passionate about providing the highest quality ingredients from our top quality gluten-free rice flour to our locally sourced vegetables and spices. By taking pride in what goes into our pasta, we know the end result will be a gluten-free product your entire family will love."
The noodles are a touch pricey but most

good

Gluten Free products aren't cheap.

 

I see having a package or two of these in my pantry on stand by for future fancy Italian meals!
Disclaimer: I was given the noodles to try but the photos and opinions are my own.
This post linked to Vegetarian Mamma's Gluten Free Fridays.