Yes, that's right folks the Girl Scouts have come out with a Gluten Free cookie! It is a Chocolate Chip Shortbread cookie. They are bite-size cookies that come in a resealable bag. There are around 20 cookies in the 5oz bag and are Certified Gluten Free. However they do contain milk and soy so they are not dairy or soy free.


In our area the regular box of cookies cost $3.50 and the Gluten Free cookies will cost $5.00. So like all things Gluten Free there is a mark up. The price will vary by area. Here is the full ingredients list.
UPDATE: The cookies I tried are from an early trial batch. The cookies that will be sold have the following allergen warning on them. So be aware of this new change.

The Gluten Free cookies are only available in 20 markets this year. If you are lucky enough to be in one of the test markets you will need to pre-order your cookies soon.

Here are some important facts about the Gluten Free Girl Scout cookies.


Are the Girl Scout Gluten Free Chocolate Chip
Shortbread Cookies produced in a gluten free bakery?
Yes. The Gluten Free Chocolate Chip Shortbread Cookies are produced in a gluten free facility and meets a 5 ppm hurdle set by Celiac Sprue Association, which is 75% lower than the FDA's 20 ppm proposed limit.
Do you offer a gluten free Girl Scout cookie?
For the 2013-14 cookie season, ABC will be piloting the first ever gluten free Girl Scout Cookie. The delicious new cookie is a bite-size Gluten Free Chocolate Chip Shortbread cookie. By introducing this new cookie, we're inviting consumers who avoid gluten to enjoy Girl Scout Cookies.
ABC will assess the results of the pilot after the first year and determine next steps. There are 20 councils across the country that chose to be a part of the pilot: visit abcsmartcookies.com/gf-cookie-councils to see which councils are participating.
The new cookie has no artificial colors, no artificial flavors, no high-fructose corn syrup, no palm oil, and no hydrogenated oils. And it's made with real chocolate chips and real butter.
So now the ultimate question – How do they taste?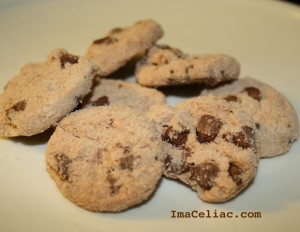 Good! I found them to be tasty. They have a nice buttery, chocolate flavor. The flour blend is rice flour based so you get a touch of the gritty rice flour texture. They do not taste like any Gluten Free cookie I've had before which is nice. I'd give them an 8 out of 10. I plan to buy a few bags from my local girl scout!
These would be great for an afternoon snack or to go in a lunch box.
Overall, my hats off to the Girl Scouts for branching out to the Gluten Free and allergy world. There are so many kids that have food
restrictions
it is nice for them to be able to order Girl Scout cookies. The cookies also have the Celiac Spruce Association logo showing they adhere to the high standards.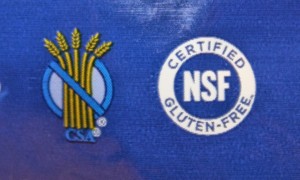 If you have the chance to buy some of these Gluten Free cookies please do! If nothing else than to just encourage the growth and awareness of food allergies and Celiac Disease. If this test season goes well who knows what they will come up with in the coming years.
So this year when the adorable Girl Scouts knock on your door know they may just have some Gluten Free cookies for you!
For more information about the Girl Scout cookies go here.
Disclaimer: I obtained the cookies from a friend in one of the test areas and am in no way being compensated by the Girl Scouts of America.