This past weekend I took a trip to Wilmington, NC to attend a wedding. I did some research before the trip to find some good Gluten Free places to eat in town and Our Crepes and More came up. I haven't had a good crepe in over ten years! So I knew I was going to make it to this restaurant even if I had to go myself.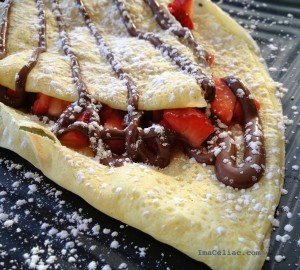 Luckily I was able to convince a group of my friends to go with me for breakfast Sunday morning. The restaurant is very easy to find and is off a main road. It is actually right next to the Whole Foods.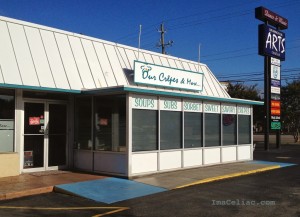 The sign in the window was a very happy welcome for this Celiac!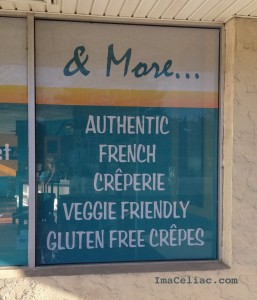 The online menu does not list Gluten Free as an option but the website states: "Our menu offers many delicious healthy options, as well as vegan & gluten free crepe !" Most all of the crepes could be made Gluten Free just ask if you aren't sure.
After reviewing the menu I decided to go with a savory and sweet crepe! I ordered a bacon, egg and cheese crepe to start.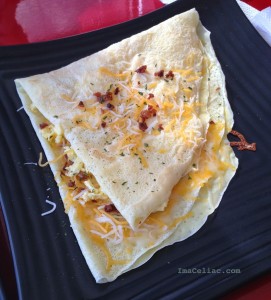 I followed it with a Nutella and strawberry crepe. Holy wow, was I blown away! Both were amazing and filling.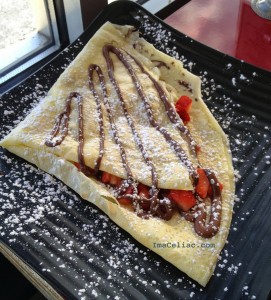 Everyone else in the group loved their crepes too. The guy in the group went for the American Breakfast which was huge!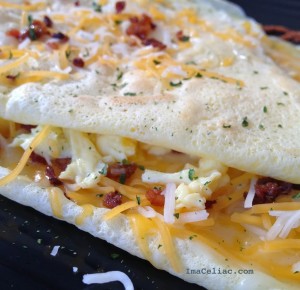 The taste and texture were in line with the crepes I remember from Paris many years ago. Knowing that this restaurant exists is super scary! If I'm ever even close to Wilmington I will make the drive just to get these yummy Gluten Free crepes! They do charge $.99 extra per crepe for Gluten Free which isn't bad.
So if you are ever in the Wilmington, NC area I suggest a stop at Our Crepes and More for some tasty Gluten Free crepes!