It's#GFreefor6 party time! During January we will spotlight some awesome Gluten Free brands and have loads of giveaways.

Last but not least is Red Apple Lipstick! The best Gluten Free cosmetic line there is. I do not have a purse or travel bag without at least 1 RAL lipstick or lipgloss in it. I wear their eyeshadow and mascara everyday.
Red Apple Lipstick makes really good products that also happen to be Gluten Free, paraben free, vegan, allergy friendly, and economical.

Ready for some excited news? RAL now has BLUSH and BRONZERS!!
If blush isn't part of your daily makeup routine just watch this video for easy tips on how to properly apply it.
Red Apple Lipstick is so much more that lipstick!
They also have eye liner, eye shadow, blush, bronzers, and brushes.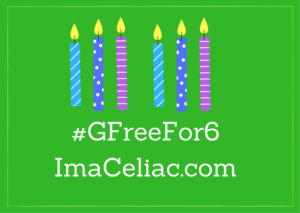 GIVEAWAY
One lucky winner will get a $25 gift certificate from Red Apple Lipstick!
This is a sponsored post with Red Apple Lipstick. We hand picked the brands we enjoy to share with you for GFreefor6.  Post contains affiliate links.