Dinner is coming, might as well have a plan!
Welcome to Celiac Disease Awareness month! This is a time where we promote knowledge and education to help people know about this autoimmune disease. One in 133 Americans have Celiac Disease and 80% don't even know they have it! Know the only cure for Celiac Disease is a 100% gluten-free lifestyle. So go out, share and educate!
Celiac and the Beast is having a month long celebration with GIVEAWAYS!  Find out more here.
Our life is crazy right now. We decided 2 weeks ago to move, so we have packed up over half our house and are on the house hunt. We are just moving across town so we don't need to go far. Our days are filled with boxes, filling nail holes and touching up paint.  Plus my new company is keeping me super busy so having a dinner plan is my only option. I've also been using our slow cooker a few days a week to save time.  Here is our plan for this week.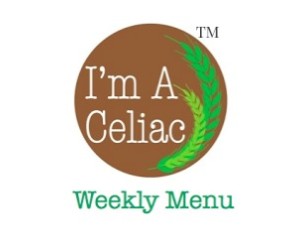 MONDAY – Slow Cooker Roast Beef with Veggies
TUESDAY – Pizza Spaghetti 
WEDNESDAY – Five Ingredient Pork Chops
THURSDAY –  Slow Cooker BBQ Pork sandwiches 
FRIDAY – Dinner Out
SATURDAY – BBQ Pork Quesadillas with leftovers from Thursday
New to living Gluten Free? Need a little help?
Check out my book, Succeed at Living Gluten Free. It has 65 tips to help you rock the Gluten Free lifestyle and avoid a ton of gluten disasters!