Gluten Free weekly menu plan for your family. 

Woohoo, life has been busy! I started my own business as a financial consultant last fall and am now doing it full time. Running my own company is awesome but a ton of work! So, I apologize I haven't been on top of sharing our weekly menus the past few months. Our menu has still been planned out and on our fridge I just haven't had time to share it with you guys.
Some super exciting news is that Starbucks in the US now have a Certified Gluten Free breakfast sandwich. It comes in a sealed bag so there is no chance of cross contamination. I'll write more details soon, but if you can find one then get one. It does come with cheese so if you can't do dairy, its a no go.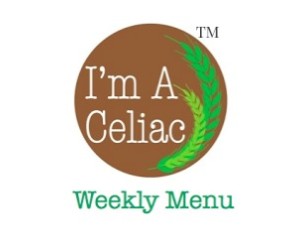 MONDAY – Lasagna 
TUESDAY –  Slow Cooker Chicken Chili
WEDNESDAY – Honey Chicken Skillet
THURSDAY –  Beef Lo Mein 
FRIDAY – Turkey Meatloaf with roasted veggies
SATURDAY – Dinner out
New to living Gluten Free? Need a little help?
Check out my book, Succeed at Living Gluten Free. It has 65 tips to help you rock the Gluten Free lifestyle and avoid a ton of gluten disasters!