Dinner is coming, might as well have a plan! Gluten Free menu plan for August 28, 2017
And we are back! Kids start school this week and life will be back into a rhyme. Summer was great but I'm looking forward to being back to a routine.
Now that the twins are eating gluten, I have to admit that packing school lunches and snacks will be much easier. But regardless of what they eat outside of the house, I keep things Gluten Free in our home. It is just easier for me and I don't have to worry about what I touch or what "kind" of crumb is on the counter.
Here is our menu plan for this week.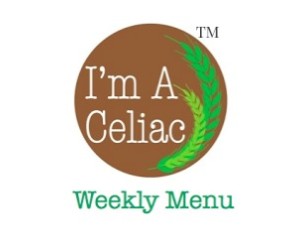 MONDAY – Easy Slow Cooker Roast Chicken with mac n cheese and veggies
TUESDAY – Chicken Cordon Bleu with salad
WEDNESDAY – Spaghetti and Meatballs
THURSDAY – Chicken Pie using leftovers from Monday
FRIDAY – Dinner Out
SATURDAY – Leftovers
New to living Gluten Free? Need a little help?
Check out my book, Succeed at Living Gluten Free. It has 65 tips to help you rock the Gluten Free lifestyle and avoid a ton of gluten disasters!