October is here and it's time to have a plan for this week's dinners!

It is finally feeling like fall outside! Kids are busy with school and sports so life is crazy. By the time we get home there is barely time for homework so trying to fit dinner in is getting harder and harder. I try to do as much meal prep during the weekend that I can to save time. Somethings I do include: cutting veggies, per-cooking meat, and making sauces.
The other huge time saver for me is making breakfasts ahead of time. I will make double batches of waffles and pancakes for the kids. For Hubby and me, I will make sausage breakfast skillet, egg frittatas, biscuits, or an egg casserole.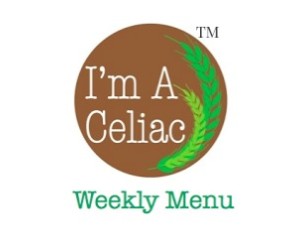 MONDAY – Stir Fry Chicken with leftover grilled chicken from the weekend
TUESDAY – Hibachi chicken, rice and white sauce – recipe coming soon!
WEDNESDAY – Taco salad
THURSDAY – Pork Loin and veggies – slow cooker
FRIDAY – Breakfast for dinner
SATURDAY – Dinner out
New to living Gluten Free? Need a little help?
Check out my book, Succeed at Living Gluten Free. It has 65 tips to help you rock the Gluten Free lifestyle and avoid a ton of gluten disasters!