Today I experienced my first Gluten Free Bakery – Lindy's Goodies Bakery! I had heard about this place from another local blogger. Since it is about 45 minutes away I haven't had time to go until today.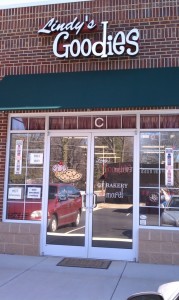 I took the toddler to help sample the products. Here she is enjoying a GF Chocolate Chip cookie.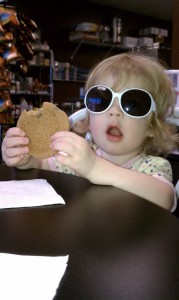 Our little Diva!
I have been on the search for Gluten Free cupcakes since January. Prior to going Gluten Free I would drive all over searching for the best cupcakes. I finally found a bakery that made amazing cupcakes but now that I'm Gluten Free – no more! So I was hoping that Lindy's would be able to fill the cupcake void for me. I was excited to hear that they do make GF cupcakes but was very bummed to hear they had sold out before we got there. Apparently someone was having a party and bought them all. Hopefully they will have some the next time I go.
The bakery staff was very helpful. The lady at the register answered my questions about different products and gave recommendations. Since the bakery only makes GF products it was nice to be able to walk in and know I could order anything off the menu! When we left the lady baking even gave me directions to a local park for the toddler to run off her energy from the cookie.
We purchased Chocolate Chip Cookies, a Deadly Fudge Brownie and a Pumpkin Chocolate Chip muffin. The Brownie was super tasty! I even got a corner piece which was perfect because I love the crust of brownies. The cookies were good as well. The muffin I'm saving for breakfast tomorrow.
Cupcakes or not I'm still excited to have found a Gluten Free bakery. I think I may go in every now and then just so I can feel the sensation of being able to pick anything from the menu!