Cake Balls are getting super popular lately. Local bakeries have signs advertising them and they are showing up at parties. Our little girl's 2nd birthday party was today so I thought I would give it a try. I'm making regular cupcakes for the guests but wanted something sweet for me to eat that was Gluten Free.
What you need:
– Gluten Free cake mix
I used 2 boxes of GF Betty Crocker White. One box is only half of a normal cake mix.
– 1 to 2 jars of Gluten Free icing
I used whipped so I had to use 1.5 jars
– Melting chocolate
I went through 4-5 boxes of the Baker's chocolate boxes




Step 1 – Make cake as directed on box. Let cool at least 30 minutes.
Step 2 – Crumble cake. You can use your hands or a mixer.


Step 3 – Combine cake crumbs and icing. I used a spatula and my hands. Put in fridge for at least 30 minutes.


Step 4 – Form balls. I used a dough scooper to get a consistent size.


Step 5 – Freeze for at least 2 hours, I waited overnight


Step 6 – Melt chocolate
Step 7 – Coat balls in chocolate and decorate! (This is the hardest part)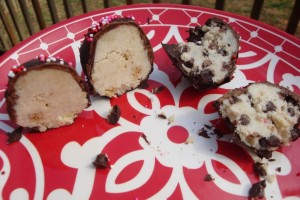 Left are just plain cake, right have the mini chocolate chips
TIPS:
If the cake balls start to fall apart while you are coating them put them back in the freezer for a few minutes.
I used the Toll House Mini chips in about half the balls to add variety. Both tasted amazing! The ones with the chocolate chips had a nice crunch.
These could easily be turned into Cake Pops by inserting lollipop sticks into the balls at the end of Step 4.
Instead of making cake specifically for this you can also take left over cake from a party and turn them into cake balls. No need to waste those yummy leftovers!
The combinations for these are endless! Here are some blogs that gave me inspiration.
The Wheat Free Family
Gluten Free Girl
Gluten Free Diva
Delightfully Gluten Free
Alisa Cooks
This blog post is linked to The Gluten-Free Homemaker, What's Cooking Wednesday, Raising Homemakers.