This dish was inspired by reading this blog about Broccoli Cheddar Nuggets. I wanted to try them but decided to see how I could incorporate Quinoa.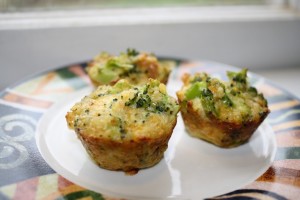 What You Need:
12 oz bag of frozen broccoli
1/2 cup uncooked Quinoa
1/2 cup grated carrots
1 1/2 cups cheddar cheese shredded
3 eggs
1/4 cup GF ranch dressing
1 slice of toasted GF bread cut up
Salt and pepper
How to Make It:
Cook the Quinoa according to the instructions on the box. Heat the oven to 375 degrees. Chop up the broccoli and mix with carrots. Add cheese, egg and dressing to veggie mixture. When Quinoa is done add with toast to mixture. Cook for 10-15 minutes.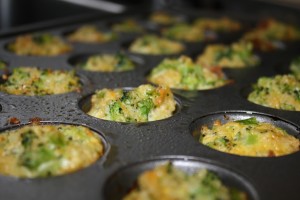 I used a mini-muffin tin that I sprayed to make mine. This allows for a fun little finger food option. These could be used as appetizers with a ranch dip, as a side item or as a healthy snack! I put about half of them in the freezer for later and plan to eat the rest this week. I love having good items in the freezer ready whenever I need something to eat!
The Quinoa added good texture and binding for the dish, I did rinse it first. There is no one over powering taste in these, everything just melts together! I think this is a great base to work off of. I look forward to hearing how other people adapt the recipe to your tastes!