When you have Celiac Disease and are living Gluten Free "grabbing a quick lunch" is very hard to do. There are those superstars that pack their lunch every day, but I'm just not that awesome. As a working mom I look for any help I can get! So when I heard about a company creating a whole Gluten Free meal in a box I was intrigued!
I first heard about Go Picnic through Twitter but couldn't find them in any local stores. When I was shopping at a World Market in Greensboro I found them! They had four varieties to choose from. Please be aware that not all Go Picnic boxes are Gluten Free so make sure you read the box before you devour it!
I picked up two boxes of the Hummus & Cracker variety.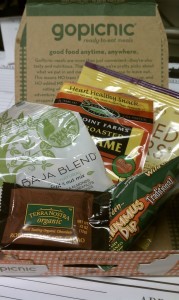 Here is what comes in the box:
– Crunchmaster Mutli-seed Crackers
– Sweet Perry Orchards Baja Blend Fruit and Nut Mix
– Seapoint Farms Dry Roasted Edamame
– Terra Nostra Organic Dark Chocolate Square
It is surprisingly a lot of food! The hummus comes in a sqeeze tube that easily glides onto the crackers. The roasted edamame is a nice side item to add some crunch. The fruit and nut mix is good but I found the coated almonds to be too spicy, so I skipped them. The meal is finished with a mild piece of dark chocolate.
I have enjoyed both boxes at work. It comes in a fun box with activities inside. If you need a quick lunch this is a great option. You can also order their products online.