Saturday night we joined some friends for dinner at Red Robin.  Before going Gluten Free I used to love their Banzai burger – drip down my hand good!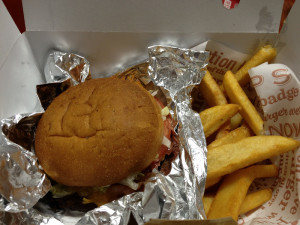 *Read the update at the bottom to learn about this Gluten Free BUN*
Prior to our visit I checked their website and found this helpful Gluten Free guide.
GLUTEN FREE LIST:
– Most salads without croutons or breaded chicken 
– Safe salad dressing: Balsamic vinaigrette, creamy cesar, ranch, and honey mustard poppyseed
– Cheeseburger, guacamole burger, natural burger, gourmet burger and bacon cheeseburger "Protein Style" without seasoning
– Grilled chicken sandwich, bruschetta chicken sandwich, California chicken sandwich, grilled salmon sandwich and chicken caprese sandwich all with no bun
– FRIES!!! Make sure they use a dedicated fryer
I had a wonderful Gluten Free experience at Red Robin.  I told the waiter right away that I was Gluten Free.  He said no problem and that he would get the manager to bring me a menu.  A couple minutes later the manager brought be the guide I saw online.  I asked about the fry situation.  The manager explained they have a DEDICATED FRYER FOR PEOPLE WITH FOOD ALLERGIES!!  How awesome is that?!  I asked him what else gets cooked in that fryer and he said just the fries!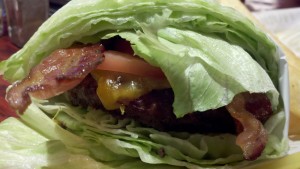 What I ordered: Bacon Cheeseburger "Protein Style" no seasoning, fries with no seasoning cooked in the dedicated fryer.  Order your burger "no pink" because you don't want burger grease running through your lettuce.   The manager brought out my meal and it was even in a yellow basket (instead of red) to show it was a food allergy meal!  I thought this was a nice touch.
This was a very enjoyable meal!   The lettuce held up well as a bun substitute.  I dipped my fries in the ketchup and was good to go.  I really appreciated their attention to my specific food needs.   We will go back!
UPDATE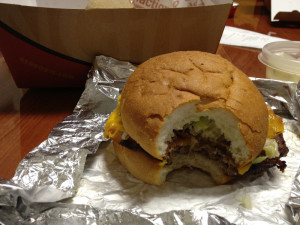 Our Red Robin carries Gluten Free buns!  Life changing!  It has been so long since I've eaten a GOOD cheeseburger in a bun.  I continue to be impressed with every visit how in tune they are with with food allergies and Celiac Disease needs.  The manager always brings out my yellow basket of goodness.  During our last visit the manager even saw me examining the seasoning salt on the table and stopped to inform me there are no Gluten ingredients in the mix but it is made in a facility that manufactures wheat so it wasn't safe for me!  I love the attention.  Any restaurant that cares that much about my Gluten Free eating needs will get lots of my business!