Saturday was the Gluten Free Expo in Charlotte, NC. It was awesome! This was my first GF expo! I was really looking forward to trying new GF foods and meeting other GF people and bloggers. There is so much to tell so I'm breaking my review into 2 posts.
The best part of the show? Meeting these two wonderful Gluten Free Bloggers!!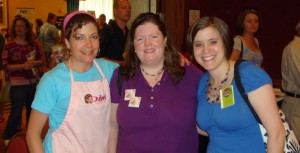 Jules, Carrie and Me
You all know Jules from her AMAZING Gluten Free Flour and books. She is also building the worlds largest Gluten Free cake this week in support of 1 in 133! Carrie Forbes you may know as Gingerlemongirl! She is a Rock Star Gluten Free blogger who comes up with super tasty recipes!
It was so fun to actually meet fellow GF bloggers and people I read about every day through Twitter. It was like seeing old friends, even though we'd never met before.
Here are my favs:


Cupcakes – Cupcakistry Their red velvet cupcake was beyond awesome!
Pasta / Noodle – Posana Cafe This is a restaurant in Asheville, NC. Their fettucini alfredo – WOW!
Pizza – Fuel I would almost drive 2 hours to one of their restaurants for this pizza! Their Gluten Free dough was fantastic!
Random Food Find – Feel Good Foods Asian-style Chicken Dumplings. These were crazy good and tasted like fresh steamed dumplings!