Saturday the toddler and I went to a local blueberry patch. It was a ton of fun to watch her run up and down the rows grabbing blueberries and dropping them into her bucket.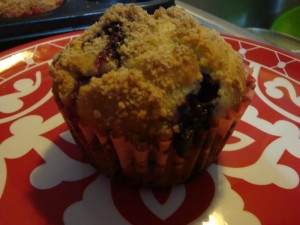 Armed with 2 lbs we headed home. We decided to try to make Gluten Free Blueberry Muffins.
What You Need:
– 4 eggs
– 1 1/4 cup white sugar
– 1 1/4 cup brown sugar
– 1 cup oil
– 1/2 cup apple sauce
– 1 tsp vanilla extract
– 4 cups GF flour
– 1 tsp salt
– 1 tsp baking soda
– 1 tsp cinnamon
– 2 cups sour cream
– 3 cups blueberries
Crumb Topping
– 1/2 cup brown sugar
– 3/4 cup GF flour
– 4 tbsp cold butter
– 2 tsp cinnamon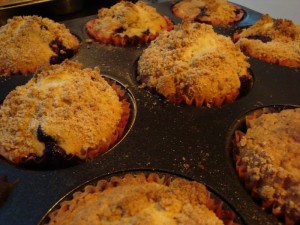 How to Make It:
Heat oven to 400 degrees. Fill 36 muffin cups with liners. (I made 24 muffins and one loaf pan). In one bowl beat eggs and sugar. While still mixing add the oil, apple sauce and vanilla. In a separate bowl stir in flour, salt, cinnamon, and baking soda. Slowly add flour mixture to batter and then add sour cream. Fill liners with mix. To make crumb topping – mix dry ingredients and cut in cold butter. Top batter with crumb topping. Cook for 20 minutes. The loaf pan took 35 minutes to bake.
They came out great! This makes a ton of muffins. They came out moist and very tasty.
They are good heated up with some margarine for breakfast or a snack!
I took some of these to work and my Gluten Loving co-workers raved about them! Everyone said they tasted great and didn't taste Gluten Free! I love being able to foul them!
This post is linked to Gluten Free Homemaker Gluten Free Wednesdays.