Over the weekend we ended up in the Apex/ Cary area of NC. After a quick google search on my phone I found a Zpizza close by! I had heard about there pizza from Gluten Hates Me, so I was looking forward to trying it out for myself.
The restaurant was very clean and open. It is the kind of place where you place your order at the counter, get a number and sit down. They bring you out the pizza when it is ready.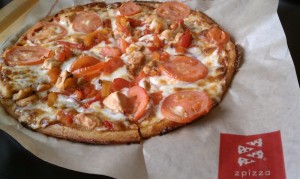 ZBQ Gluten Free Pizza
I asked the girl at the counter for the Gluten Free menu which she easily produced. After looking it over I decided to go with the ZBQ 10 inch pizza. The Gluten Free dough only comes in 10 inch size. I asked for no corn or cilantro because neither one sounded good to me on a pizza. The hubby got a 10 inch meat pizza. The girl taking our order informed us there was a special buy 2 10 inch pizzas get 1 free! Score! I decided to get a Napoli to go.
It wasn't long before our pizzas were delivered to our table. The waitress informed me that they had put the Napoli in the warmer and it would be ready whenever we left – very thoughtful!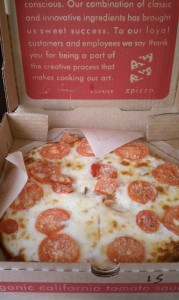 Napoli Gluten Free pizza
Overall I found the pizza to be very tasty! The crust was thin and enjoyable but a little tough. Trying to cut it into bite size pieces with a plastic knife and fork didn't work too well. The toppings are what make the pizza awesome. The crust was a holder of the fresh, organic, and tasty toppings. Between the two my favorite was the ZBQ because I'm a sucker for BBQ Chicken pizza. The Napoli pizza tasted like good, garlic cheesy bread with fresh tomatoes.
There are Zpizzas all over the country so if you have the opportunity to visit I highly recommend it! This pregnant ladies pizza cravings was satisfied for a few days with these two pies!