Check out what I found in our local Wal-Mart! That is right, the much talked about Gluten Free Rice Krispies. I grabbed a box to give them a try.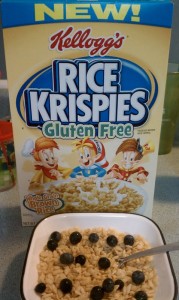 Taste: They tasted just like regular Rice Krispies to me. I'm more of a sweet cereal girl myself so I added fresh blueberries.
Texture: Crunchy at first and then soft as they soak up the milk.
Noise: They did "snap, crackle and pop" like they were supposed to
Overall: This is a good addition to the Gluten Free cereal world. I will buy them again but like I said I prefer sweeter cereals. I plan to make some rice krispie treats soon!