Our family joined my hubby's family for a week trip to the Tennessee Mountains. We stayed in an adorable mountain top cabin in Pigeon Forge. Every year we take a trip and this was the first year we didn't hit the beach and decided to try the mountains.
Gluten Free eating is challenging in your own town but on vacation it makes it harder. My research before our trip didn't come up with much information about local restaurants or safe places to eat. This meant it was just up to me to be diligent and ask the right questions.
First, there is a Kroger grocery store in Pigeon Force. They have a TON of Gluten Free products. Since we stayed in a cabin with a full kitchen we tried to eat in two meals a day – a big money saver! We just stocked up at Kroger with Rudi's bread, Udi's Cinnamon rolls, Chex cereal, fruit, GF pasta, sauce, salad and GF frozen pizza. I brought GF Bisquick from home and was able to impress everyone with how good it tasted! Every time we ate in the cabin I was able to make a safe Gluten Free version of whatever we were making. Our meals – pasta with meat sauce, taco salads, sandwiches and breakfast food.
Eating out turned out to be not so painful.
We ate lunch at KT Bar and Grill in the Tanger Outlets in Sevierville. After talking to the manager (who thinks she is a Celiac!) it was determined I could have a side salad with balsamic vinaigrette and a baked potato with butter, sour cream and cheese. Not a bad lunch in my book.
We ate dinner at The Old Mill in Pigeon Forge. This was a fun family style southern home cooking restaurant. As soon as were were seated I asked for the allergy menu. I decided to go with the grilled chicken and rice with mashed potatoes. All the meals come with corn chowder and corn fritters – both Gluten Full, a salad and dessert. I subbed my corn chowder for mac-n-cheese for the the toddler and skipped the fritters. Everyone said the fritters were awesome with the honey butter! I got my salad with thousand island dressing. For dessert I went with vanilla ice cream. Overall it was a ton of food and very tasty. I shared with the toddler and we were both happy.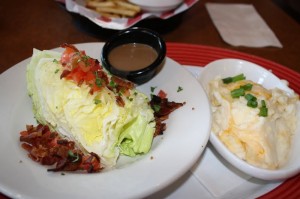 We ate lunch at the TGI Friday's in Gatlinburg. They have an allergy menu if you ask. However the Gluten Free options are VERY limited. I went with the lettuce wedge with the house vinaigrette and the mashed potatoes. It was a good lunch but would have been disappointing for a dinner. Just not a lot of food for a dinner meal.
Another successful Gluten Free traveling adventure! Some things were hard to say no to but well worth it.