For a recent trip I decided to make some cookies. With limited time and ingredients I stubbled upon this recipe. I of course changed it some based on what I had. I was very pleased with the end result. They were chewy and delicious!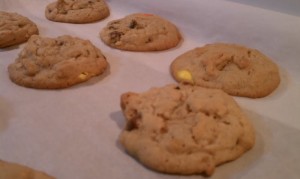 What you Need:
1/2 cup butter, softened
1/2 cup peanut butter
2 eggs
1 box Betty Crocker Gluten Free Cookie Mix
3/4 cup M&M's
1 cup Chex Rice Cereal & GF Rice Krispies
How to Make:
Heat oven to 350. Mix butter, peanut butter and eggs. Add cookie mix. (May need to add water if dough is too dry). Stir in M&M's and cereal, be careful not to break up cereal. Bake on parchment paper for 10-13 minutes.