During our trip to Charlotte, NC we did a little Google search for Gluten Free breakfast and came up with Bad Daddy's Burger Bar.
It was a beautiful day so we decided to sit outside on their patio. They only serve breakfast on the weekends but have a full Gluten Free menu for lunch and dinner as well.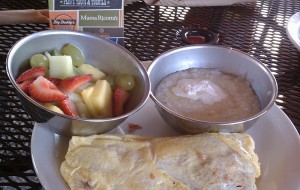 After talking to the waitress I decided to go with a three egg omelet, grits and fruit bowl. It was a ton of very tasty food. I actually skipped lunch because it was so much.
The hubby had the breakfast burger and potatoes. He said it was very good.
Bad Daddy's was fun and had great food. The next time we go I hope to be able to try one of their Gluten Free burgers.