I love fall! The weather is perfect, I love the leaves changing colors and I love apples! Here is a simple and Gluten Free way to make and enjoy Apple Pie! The recipe needed very little changes to make it Celiac friendly!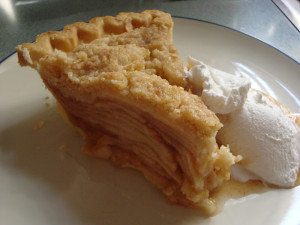 Yes! It did taste as good as it looks!
What you Need:
– 1 Gluten Free Pie crust – I used the Whole Foods brand
– 3 to 4 Large apples peeled, cored, and sliced – I used Gala because I like sweeter apples
– 1/2 cup white sugar
– 1 tsp cinnamon
– 1/4 cup brown sugar
Topping
– 3/4 cup GF flour – I used Jules
– 1/3 cup white sugar
– 1/3 cup brown sugar
– 6 tbsp cold butter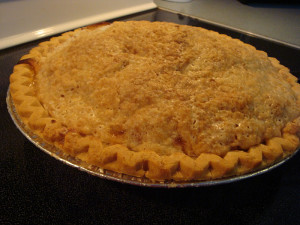 How to Make It:
Heat oven to 400. Mix apples and other ingredients together. Fill pie crust with apple/ sugar mixture. Mix sugar and flour together for topping. Cut in butter, I used my fingers to mix it in. Top the apple mixture with the topping. Bake for 35 minutes. Let cool 10 minutes then serve.
We ate it with cool whip but ice cream would be great also! I hope you enjoy this apple pie as much as we did!