After reading two blog posts recently I decided to try my hand at making Chocolate Bark for Christmas gifts. I did a dry run on the peppermint bark. It has a layer of semi-sweet chocolate, white chocolate and peppermint candy on top. I only made half a batch since I would be eating it! To be honest I burned the first batch of white chocolate while melting it in the microwave – fail! But my second batch came out fine and the end product was very tasty! I actually found it to be very refreshing to eat.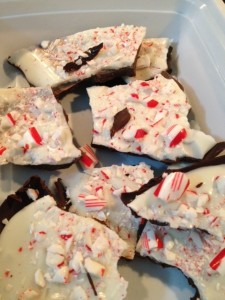 I plan to make Jules' pretzel and pecan bark next.
Some things I learned:
– Don't burn the chocolate! I'm not smart enough to bring it back once it has gone too far
– When making the peppermint bark allow the semi-sweet layer to chill for at least 20 minutes before you put the white chocolate on
– You have to work fast when you add the white chocolate layer or it will start to melt the semi-sweet layer
– I found it was easier to break the bark at room temperature rather than just out of the oven
I used these two posts as guides: Simply Gluten Free and Jules Gluten Free.