If you are looking for a filling and hardy breakfast this is it! This is my version of the store bought frozen skillet meals. You know the $6 frozen bag that you add eggs to and heat up.
I wanted to create a fresh and healthier version so here you go!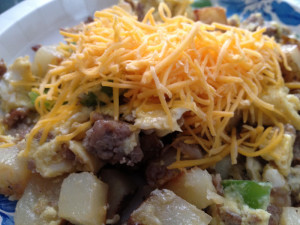 What You Need:
4 cubed potatoes
2 tbps butter/ oil
1/2 green pepper chopped
1 lb GF sausage – I used Jimmy Dean
1/4 cup milk
7 eggs
Season salt
Topping:
Cheese
How to Make It:
Melt butter in skillet on medium heat, add potatoes and season salt. Cook covered for 10 minutes, stirring occasionally. Once cooked remove from skillet. Cook sausage and peppers. Before adding the eggs move the sausage and peppers to one side. Mix the milk and eggs together, pour into skillet and scramble. When the eggs are cooked add potatoes back to the skillet and heat for 5 minutes. Serve with shredded cheese!
A super easy and filling breakfast! We make this over the weekend and eat it for about 3 mornings during the week. My hubby adds hot sauce to his.