It's late, the kids and hubby are in bed and I want something sweet! I ate all the Gluten Free cookies so I have nothing. I don't want to spend an hour making cookies or brownies or something. So thanks to Pinterest I decide to try a Mug Cake. I was skeptical but willing to try anything at this point. To make this Gluten Free all I had to do was substitute Gluten Free flour.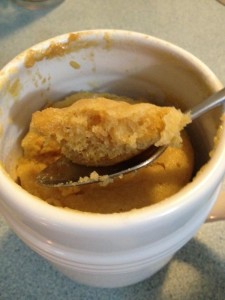 RECIPE FROM KIRBIE'S CRAVINGS

Peanut butter mug cake
ingredients:
4 tablespoons all purpose flour
4 tablespoons white granulated sugar
1/4 tsp baking powder
1 egg
3 tablespoons peanut butter
3 tablespoons milk
3 tablespoons vegetable oil
directions:
Combine all ingredients in an oversized coffee mug. Whisk well with a small whisk until smooth. Microwave on high for 1 1/2 minutes and then take it out to check to see if it is done. If not, continue to microwave in thirty second intervals. Mine was done at 2 minutes. You don't want to overcook it or it will become rubbery. You can also make this into two smaller-sized mugs. You can mix the batter all in one mug and then pour half into another mug. Make sure you cook each one individually.
Seriously life changing! Single serve Gluten Free dessert that literally took me 8 minutes to assemble, mix, and bake. Can't wait to try some of the other recipes and experiment with my own!
Next time I'm hungry at 3am – making this!
You are welcome!