When you have Celiac Disease eating out at restaurants can be difficult, frustrating, stressful, painful and heavy. I find that now that I'm Gluten Free I think about food a lot. Always trying to plan where I can get my next safe meal. So when you find a restaurant that has a good Gluten Free menu and cares about cross contamination you feel joyful, relaxed and lighter.
I had one of those experiences this past week. I was in Raleigh with my mom who had a doctor's appointment. It was getting to be lunch time so I pulled our my phone and used my Find Me Gluten Free app. Much to my excitement I saw that Bella Monica was .4 miles away!! I've had their frozen Gluten Free pizza a number of times. I enjoy the cheese and then I add my own toppings. So I was familiar with the name and brand.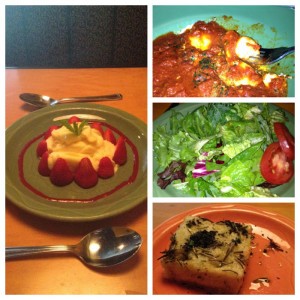 Left – Creme Brulee, Right top – Cheese Ravioli, middle – Salad, bottom – GF Focaccia
Lunch was amazing! As soon as we sat down I told our waitress I needed a Gluten Free menu. She quickly returned with the menu and an orange plate that she placed beside me. I later learned the plate was there to let all the servers know I had Celiac and that I needed only Gluten Free food items! How thoughtful is that?! After going over all the options I decided to go with the Cheese Ravioli.
All the meals come with focaccia bread and the Gluten Free guests are not forgotten. The Gluten Free bread is served on the same orange plate that was placed next to me. It was so good I asked for another piece! It isn't often us Celiacs get fresh bread! My dish also came with a house salad that comes with a vinaigrette dressing. The ravioli was super tasty, had a great texture and a marinara sauce that makes you want to lick your plate! Fresh bread and fresh pasta in one meal – this carb girl was in heaven!
We finished the meal with my mom's favorite – Gluten Free Creme brulee with strawberries. It didn't have the usual sugar crust on top but once we took a bite it was clear it didn't need it. This dessert was so good I could have eaten two all by myself.
During our meal Trevor, the owner, came by to see if we needed anything. We had a great discussion about the Gluten Free community and his tasty pizza. I thanked him for caring enough to have options for Gluten Free people to eat! You could tell he was truly passionate about his food and providing a safe environment for Celiacs to eat. He attends many of the Gluten Free expos so if you see him take minute to chat.
Overall I was more than pleased with my Gluten Free lunch at Bella Monica. Now that I know where it is I plan to eat there as much as I can when in Raleigh. There are many more dishes I'm eager to try. From start to finish the food was tasty and enjoyable to eat. I felt full when I left and it takes a lot to fill me up! The prices where a little high, but when I find good, safe food I don't mind paying for it.
Enjoy!