I've made regular Gluten Free lasagna before and even tasty Baked Ziti. So when I was planning last week's menu I decided to add a twist and try Gluten Free Crock Pot Lasagna. When we invited my cousins over for dinner Saturday night I decided to change my menu plan and make the lasagna then.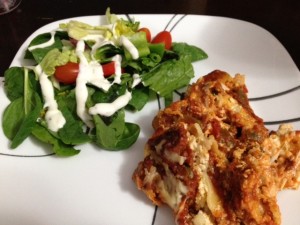 It turned out great! We cleaned the crock pot! Almost everyone had a second helping and no one could tell it was Gluten Free. It was super easy to make and reduced the stress of cooking for company.
Adapted from this recipe.
What You Need:
1 lb ground beef
2 cans (12oz) tomato sauce
2 cans (7oz) tomato paste
1 tbsp italian seasoning mix
1 diced tomato
1/4 chopped green pepper
1 – 2 sliced medium sized zucchini
1 box GF rice lasagna noodles (uncooked)
1 cup cottage cheese
1 cup ricotta cheese
1 egg
1/3 cup grated parmesan cheese
1 cup mozzarella cheese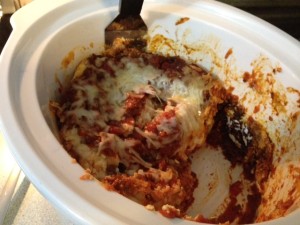 How to Make It:
Brown beef and drain. Add tomato sauce, paste, seasoning, and veggies to the skillet. Put on low and simmer for at least 10 minutes while you get everything else together. Whisk the cheeses and egg together in a bowl. Layers for the crock pot: tomato sauce, double layer of noodles (uncooked), cheese mixture, and repeat. Cook on low for 4 hours. For the last hour top with more mozzarella cheese.
Tips:
To save time you could always use a 16oz jar of GF red pasta sauce instead of making it from the cans. You could add any veggies you want to this recipe – onions, mushrooms, eggplant, carrots, etc. I had fresh zucchini from our farmers market so I used it.
You will need a 4 qt crock pot or bigger. I have a 3 qt pot so I had to make a small dish to go in the oven from the overflow.
I was able to get 2 layers in my crock pot.
This Post is linked to Made From Scratch Monday and Gluten Free Wednesday's.