We had a dinner party at a friend's house Saturday night so I did my usual phone call ahead of time.   I ask what we are having and offer to bring something.  Since it can be difficult to feed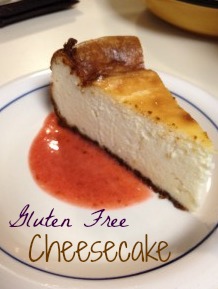 me I normally offer to bring a dish or two so there is something I know will be safe.  Dessert is normally one of the dishes I bring.  I decided to tackle cheesecake for the first time ever!  And Oh Man this Gluten Free cheesecake is Amazing!!!
I adjusted this recipe to make it safe.  I also made strawberry sauce to go with it and got the recipe from here.

Gluten Free New York Style Cheesecake
Ingredients
CRUST
1 bag of GF Ginger Snaps (8oz bag)
2 tbsp butter - melted
FILLING
1 cup sour cream
1 tbsp GF vanilla extract
1/4 cup GF flour mix
Lemon zest of half a lemon
4 - 8oz GF cream cheese packages at room temperature
1 cup white sugar
3/4 cup milk
4 eggs
Instructions
Heat oven to 350 degrees. Grease the sides and bottom of a spring form pan. Put the ginger snaps in a ziploc bag and use a rolling pin to crush them. Mix crumbs with melted butter. Press into spring form pan and let it go up the sides about 1/2 inch.
In a bowl mix together the sour cream, GF flour and GF vanilla extract in a bowl and set aside.
In another bowl beat together the cream cheese, sugar, milk, lemon zest and eggs.
Once creamy, pour in the sour cream mixture.
Fill pan and bake for 1 hour.
Then turn off the oven (don't open the door) and leave it in the oven for at least 2 hours.
Once it is cooked let chill for at least 2 hours in the refrigerator.
http://www.imaceliac.com/2012/06/gluten-free-new-york-style-cheesecake.html
 This was a huge hit!  It tasted like regular cheesecake and the crust was on point!  The strawberry sauce gave it a nice sweet touch.  I will make this again and it will be a great base for flavored cheesecakes!
This post linked to Gluten Free Wednesdays.