We just got back from a week long trip to Myrtle Beach, SC. Our family of five went with my hubby's mom, brother and his family. We had a great time, had some good food and enjoyed time together.
Gluten Free eating on vacation can always be tricky. We were lucky that we were staying in condos with full kitchens. So the first thing my sister-in-law and I did when we got there was hit Wal-Mart. I could not find a Whole Foods, Trader's Joes, or Fresh Market but there was a Kroger if you don't like Wal-Mart. We made a list of what we needed for breakfasts, lunches and three cooked dinners. The plan was to eat out two nights and cook the rest to save money. We returned to the rooms with two carts worth of food! Once the math was done it came out to $3.18 per person per meal. WAY cheaper than eating out. We made spaghetti with meat sauce one night – I had my own GF noodles while everyone else ate regular gluten noodles. We also made this super easy chicken dish and had rotisserie chicken one night. I just made sure I had lots of GF sides and snacks on hand.
There were lots of options for eating out. I used the Find Me Gluten Free app to find local places to eat.
The following chain restaurants with Gluten Free options are available:
Here are some local / mini chain restaurants with Gluten Free menus:
Jimmy Buffett's Margaritaville
For one of our dinner's out we ate at Red Robin. They have a great Gluten Free menu and take great care to avoid cross contamination. They have a dedicated allergy fryer so you can eat the fries and they have GF buns!! I get the bacon cheeseburger and it is so tasty! Read this post if you want more info on Red Robin.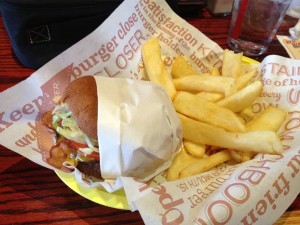 Another evening we went to Liberty Steakhouse at Broadway at the Beach. This was not my first choice for dinner but due to kids not getting naps and long wait times this was where we ate. After talking to the manager I learned that their meats are pre-seasoned and they were NOT Gluten Free. So it was decided I could have a side salad with oil & vinegar (the only GF dressing), a baked potato and a baked sweet potato. The twins ate most of my sweet potato. Not the best meal ever but it got me through till we could get back to our room to eat one of my back up meals.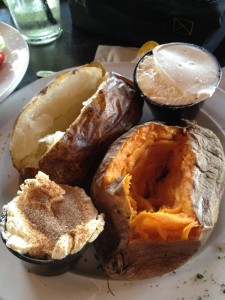 This does lead to a good lesson – always ask questions and be prepared that you may not get to eat much when eating out. I'd rather eat side dishes than get Glutened!
For lunch we did make it to Jimmy Buffet's Margaritaville one day. They have CRAZY long wait times so go early. They have an extensive GF menu and care about cross contamination. The wait staff was very knowledgable and told me about the dedicated fryer for the fries and their GF buns.
I went with the Volcano Nachos (that we all shared) and the Cheeseburger in Paradise.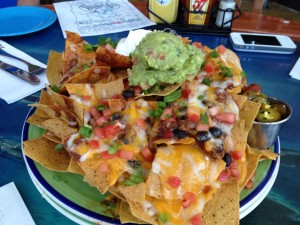 The nachos were awesome! They could have been my meal and I would have been satisfied.
The burger was ok but honestly the burger and fries at Red Robin were better and cheaper!
The good news is I had a successful GLUTEN FREE VACATION to Myrtle Beach!
On a non-food related note we took the kids to Wonder Works. We had an 8 yr, 3 yr and the 9 month twins. I felt the target age range would be 9-14 yr old. It was also super expensive and crowded. The girls only got to do a few things because of the crowd and their age.