I picked up a bag of Namaste Foods Gluten Free Muffin Mix at the grocery store last week. I have seen the mixes before but never grabbed one. This trip I had a coupon so I went for it! During play time this morning I was getting hungry and decided to whip up a batch. Which was actually pretty easy even with twins crawling all over the place.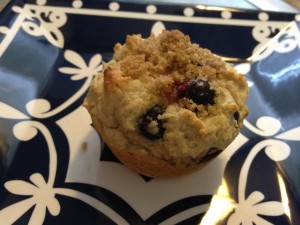 The instructions are super easy and all you need is 2 eggs, 1/4 cup oil and 1 cup water. There are also instructions on the bag for adding fruit and various other things.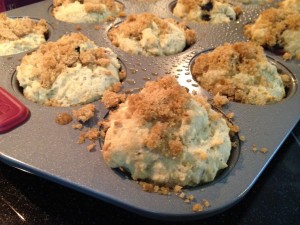 Here is what I added to the mix: 3/4 cup frozen blueberries, 1 tbsp ground chia seeds, 3/4 cup / 1/4 cup apple juice subbed for 1 cup of water. I also made a brown sugar crumble topping with 1 tbsp butter, 1/4 cup brown sugar and 1 tbsp GF flour mixed together. Add the crumble half way through the cooking process.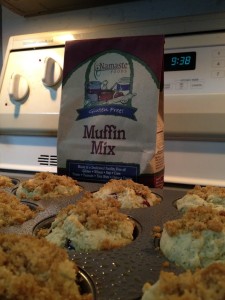 RESULT: moist, tasty muffins! The texture was good and they had a good flavor. They were not too sweet so the crumble topping helped. I plan to freeze half for a later GF muffin craving. The nice thing about this product is that it is a good base, you could add your favorite fruit and nuts to make almost any type of muffin. One bag only makes 12 muffins and it is over $4.50 a bag without a coupon. It is a good mix to keep in my pantry for special breakfasts but a little pricey for frequent use.