You may laugh at the name but take one bite and you will know why it is called Christmas CRACK!  It is so utterly addictive you will have a hard time controlling yourself.  I was first introduced to this wonderful treat about four years ago by a lady from church.  She sent a tin of it home with the hubby and gave me the recipe.  I have been making it every Christmas since!  

This is a great snack food to take to Christmas gatherings or to give as gifts to co-workers and neighbors.  It seems like I have to make more and more each year to meet the demand!  So far this year I've made three batches of the Crack and will need to make at least two more by next week.  I dare you to make some and pass it out – you will truly feel like a "drug dealer" as people come back begging for more!

Disclaimer: This is by no means good for you (which is why it tastes so good)!  It does include nuts but could be made without them.

What you Need:
1 1/2 sticks of butter
1 1/2 cups of brown sugar – unpacked
1 1/2 tbsp Karo Syrup
1 1/2 cups Cashews
7 cups of GF Rice & Corn Chex cereal mixed, 3 1/2 of each type

How to Make It:
Melt butter and brown sugar in large pot stirring with a wooden spoon over medium heat until bubbles form.

Once bubbles appear add in Karo Syrup and stir for 3 minutes.  

Remove from heat and mix in cashews and cereal.  

Stir together gently so you don't break up the cereal.  Pour out onto wax or parchment paper to cool. 

Once cooled you may need to break up any clumps.  Put in tins, bags, etc and share!
You can make these nut free by omitting the cashews and adding 1 additional cup of the Chex Cereal.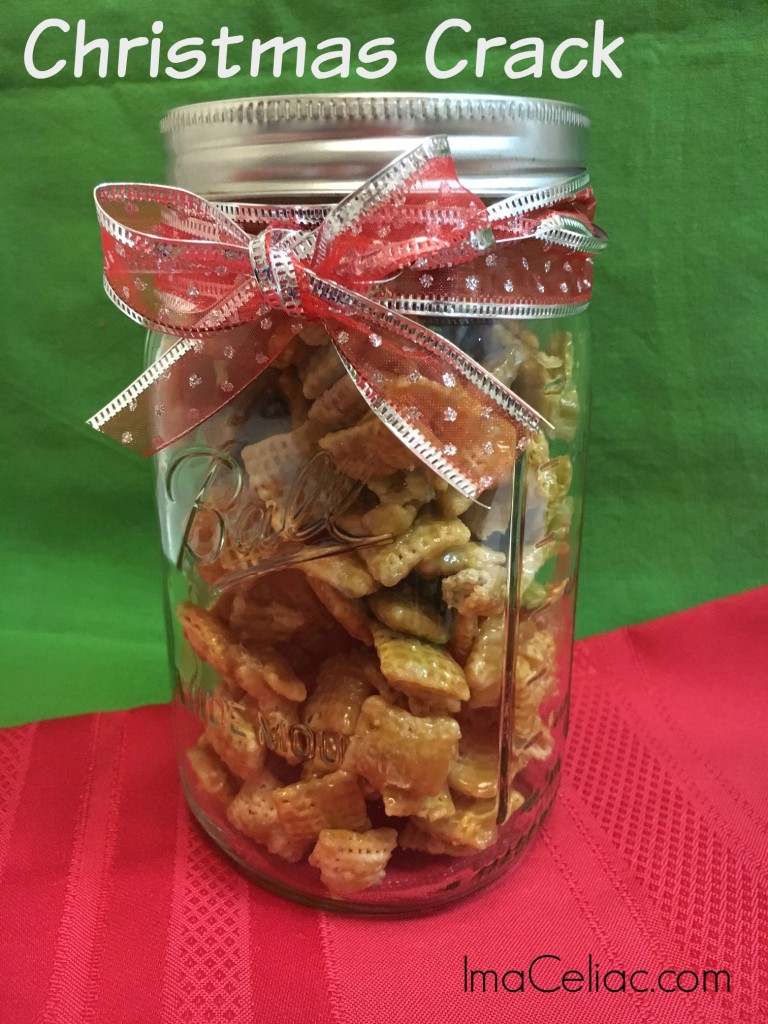 This one is worth making!
Enjoy!