Appetizers and desserts are two of my favorite types of foods. However when eating Gluten Free both can be a challenge! Restaurants especially seem to have limited options for these foods. So I have been slowing working on making Gluten Free versions of some staple restaurant appetizers like onion rings and potato skins. My most recent creation is Baked Gluten Free Mozzarella Sticks!! I baked them so they'd be healthier and to be honest I stink at frying things! Like fill the house with smoke stink at frying things. My hubby and I ate these for a late night snack the other night! So amazing!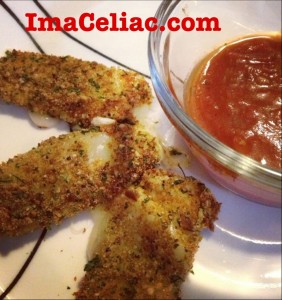 12 part-skim mozzarella sticks
6 tbsp GF bread crumbs – I used Tall Papa Italian GF Bread Crumbs
2 tbsp grated parmesan cheese
Cut mozzarella sticks in half and freeze for at least an hour on parchment paper on a cookie sheet.
Get your prepping bowls ready.
1 with the GF bread crumbs and parmesan cheese
Pull out frozen cheese sticks and take them through the prep bowls. Flour – egg – bread crumbs.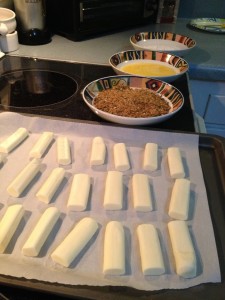 Place back on the parchment paper and freeze for at least 10 minutes.
Heat oven to 400 degrees.
Cook the mozzarella sticks for 3 minutes on one side then flip and bake for another 3 minutes. Keep an eye on them!!
Serve with GF marinara sauce!
If you don't want to cook them all at one time just freeze them already breaded for later!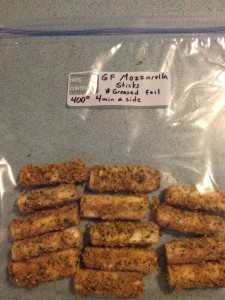 This one is life changing!
ENJOY!