If you have been around here a while you know how much I love to use the slow cooker. It makes life so easy! Throw a bunch of stuff in the pot, forget about it and a few hours later dinner! For our busy life it is such a blessing. I have been making this particular recipe for a while. It is a big favorite with the kids. They always gobble down a big bowl of it! My version is adapted from this recipe.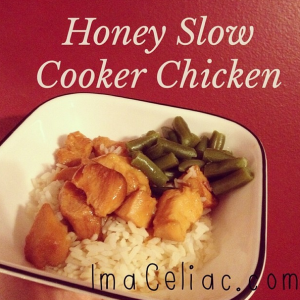 Here is how I make Gluten Free Honey Slow Cooker Chicken



What You Need:
2 chicken breasts cubed
1/2 cup of honey
2 tbsp GF soy sauce
1 tbsp minced onion
2 tbsp ketchup
1 tbsp oil
1/2 tsp garlic powder

How To Make It:
Pull out your handy dandy slow cooker. Place the raw chicken in the slow cooker. In a bowl combine all the other ingredients and stir. Pour over the chicken and stir to coat. Cook on low for 4 hours or high for 2 hours. This dish is great with rice or quinoa.

I normally serve ours with steamed veggies of some sort. I have added carrots in the slow cooker before but make sure you cook them on low for 4 hours, the high on 2 hours isn't enough to get the carrots soft.

I hope you enjoy this simple Gluten Free meal as much as we do!

For more slow cooker meals check our my Freezer Meals!

Enjoy!