You all know I love one dish meals! Casseroles and I are best friends! We sit around drinking red wine and eating chocolate. Ok back to reality, I just like to make simple Gluten Free meals. One dish meals are a win for our family.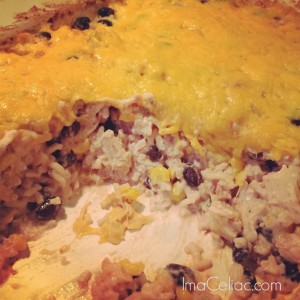 I found this recipe on Pinterest and actually pinned it twice without knowing it. I finally made it tonight. It turned out to be a big win! Here is how I made it.

What You Need:
4 cups cooked rice
2 cups cooked and chopped chicken (I used rotisserie chicken)
1 can drained black beans
3/4 cup frozen corn
1 cup sour cream
1 cup salsa
1 tbsp dry GF ranch dressing mix

1 cup shredded cheddar cheese

How To Make It:
Heat the oven to 400 degrees. Mix everything together in a bowl except the cheese. Pour into a casserole dish. Top with cheese and cook for 20 minutes.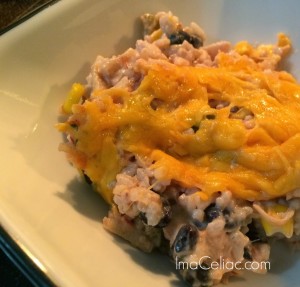 We ate ours with corn chips. Um wow! The flavor in this casserole is crazy good!

Since the kids have gone to bed the Hubby and I are still scooping out the goodness for a late night snack.

This is a super simple one dish meal that your family will love. You can add more spice by adding more salsa or some jalapenos.

Enjoy!