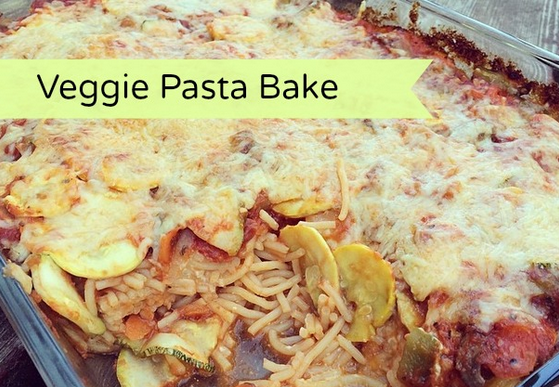 While I am a lover of bacon, I do like to balance our diet with some meatless meals. This one hits all the high points for our family: it has GF pasta, it is easy to make, it doesn't take long, it is filled with veggies and the kiddos will eat it!


What You Need:
1 box of GF spaghetti noodles – I use Ronzani
2 tbsp olive oil
1/2 onion chopped
1/4 tsp minced garlic
3 cups of sliced/ chopped fresh veggies
I used: carrots, zucchini, squash, mushrooms, and green peppers
salt and pepper
1 jar of GF red pasta sauce, 24 oz
4 oz cream cheese, softened
2 tbsp grated parmesan cheese
1 tsp oregano
1 cup shredded parmesan cheese
How To Make It:
Heat oven to 375 degrees. Boil water and cook pasta until al dente, around 7 minutes. Heat a large skillet over medium high heat. Add the oil, onions and minced garlic. Stir and cook for 3 minutes. Add in the veggies and season with salt and pepper. Mix to combine and cook for 5 minutes. Add the red pasta sauce and reduce to a simmer while you complete the next steps. In a bowl combine the cream cheese, grated parmesan and oregano. In a 9 x 11 casserole dish combine the GF pasta and cheese mixture for your base layer. Then pour on your veggie and sauce layer. Top with the shredded parmesan cheese and bake for 20 minutes.
This is a winner in our house and provides us lunches for days!