When I was in Miami for a blogging conference I learned about CVS's new product line called Gold Emblem Abound. It is filled with healthy snacks that you can find in many of their stores. The awesome part is that many of the products are Gluten Free! Woot!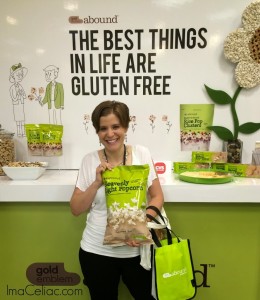 I couldn't agree more!

While in Miami I tried a few of the products and was able to try the rest when I got home. The Gold Emblem Abound products are healthy, good and provide safe snacking options. The entire product line has no artificial perservatives or flavors and they are all zero trans fat.

Here is what CVS has so say about these new products:


Gold Emblem Abound is a new line of affordable, great tasting, and healthier snacks that will be available exclusively at the more than 7,600 CVS/Pharmacy stores across the U.S. starting in June. These snacks are made with wholesome and natural ingredients that help you feel nourished and satisfied – perfect for any snack round-ups or healthy snacking features you may have planned for the fall!
With easy to read packaging, Gold Emblem Abound clearly identifies the product benefits on the front of the packaging, making it easier to make the right choice in supporting a healthy lifestyle. Gold Emblem Abound snacks include natural nutritional benefits that support the recommended Healthy Diet guidelines from the USDA and FDA.
There are really a ton of products that are Gluten Free to include: popcorn, almonds, baked rice crisps, rice thins, fruit snacks and rice pop clusters.
The kiddos and I have enjoyed trying all of these yummy treats! Our favorites have been the popcorn, almonds, rice thins and puffed rice snacks. I have been taking the almonds and rice thins with me to work to snack on during the day. They also have different flavors for the rice crisps and rice thins so you have options.
Check your local CVS for these Gluten Free Gold Emblem Abound snacks and enjoy! Hint they have a $1.00 coupon on their website!
CVS is giving away a prize pack with 6 full size products to 1 winner! Enter below and good luck!