You know that $30 steak you get from your local steakhouse? Well, here is how you can make your own pan seared, juicy steak at home.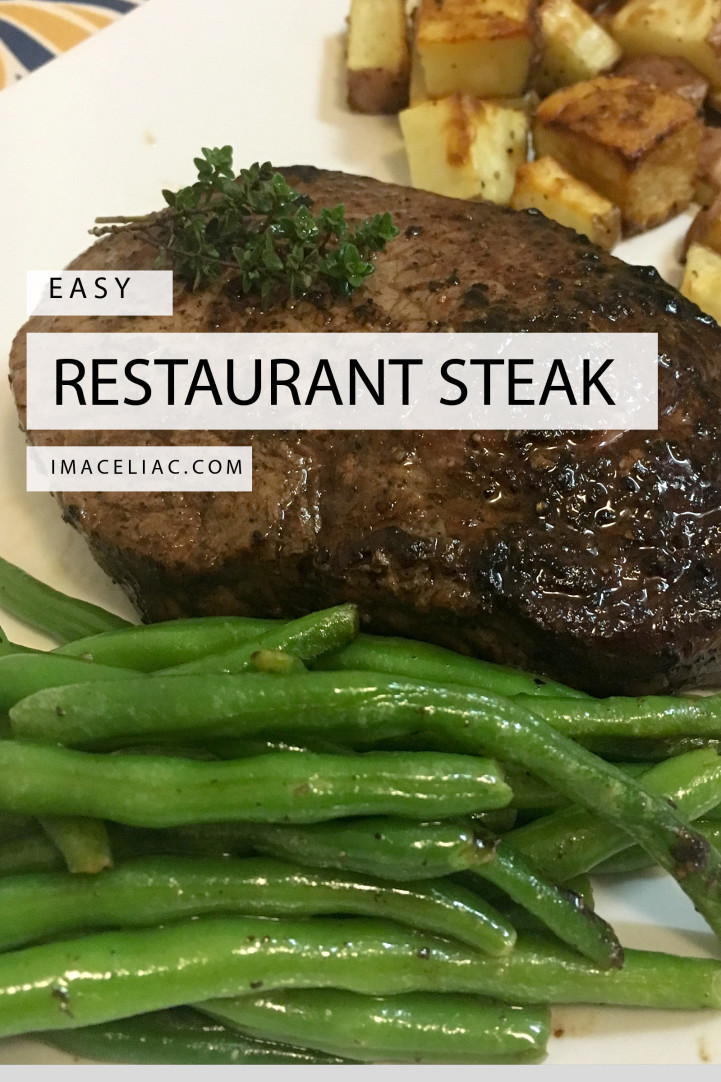 Eating out when you live a Gluten Free lifestyle is always a challenge. Finding a good steak can be harder than it seems due to seasoning, marinades, and cross contamination in the kitchen. For example at one restaurant chain you have to order your steak without the "marinade and butter brush" another without the "grill seasoning".
To avoid the potential of being Glutened and to save some money, just stay home and make your own steak dinner.
With 3 young kids Hubby and I tend to have "date night-ins" because by the time you factor in food, tip, drinks, and a babysitter you are well over $100 for just 1 meal. So after the kiddos are in bed we pour a glass of wine and make our own restaurant style steak dinner.
Ingredients
Olive oil or avocado oil
Salt and pepper
2 steaks - sirloin and filets work great
Butter
Instructions
Heat a skillet over medium high heat with 2 tbsps olive oil.
Heavily season both sides of your uncooked steak with salt and pepper.
When oil is hot, starts making "waves", add your steak.
Do not move it!
Let is cook for 3-4 minutes
Flip the steak and cook the other side for 3-4 minutes
Flip and place a tbsp of butter on top of the steak, let sit for 1 minute
Flip and repeat previous step
Remove the skillet from the heat
Cover the skillet with foil and let rest for 10 minutes
Uncover and serve
Notes
You can tell how done the steak is when you press down on it while cooking. A firm steak will be well-done while a steak that has some give to it is more medium to medium rare. Do not cut open the steak while cooking to check if it is done, you will loose all the juice.
http://www.imaceliac.com/2016/03/how-to-make-restaurant-style-steak-recipe.html
We usually cook some sort of potato and green vegetable with our steaks.
To save money on meat, head to your local butcher and order a slab of sirloin 1-2″ thick. You can have them cut it up into 6-8oz portions. I spent $30 and we got 8 individual steaks out of it.  That means 4 date nights!
This really is super easy to make and once you figure it out you will never grill a steak again.