Simple recipe for Gluten Free spaghetti pie.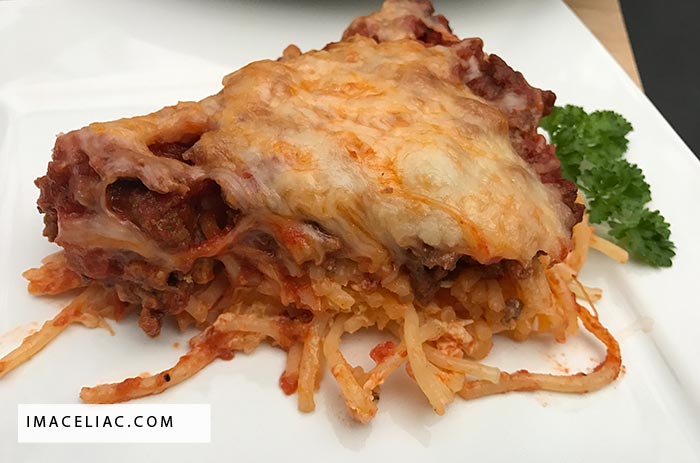 Tired of eating the same old thing? Ready for a fun new Gluten Free dish to try? Let me share a super easy recipe for Baked Spaghetti Pie. It is perfect for a busy week night dinner or a make ahead meal that you heat as needed.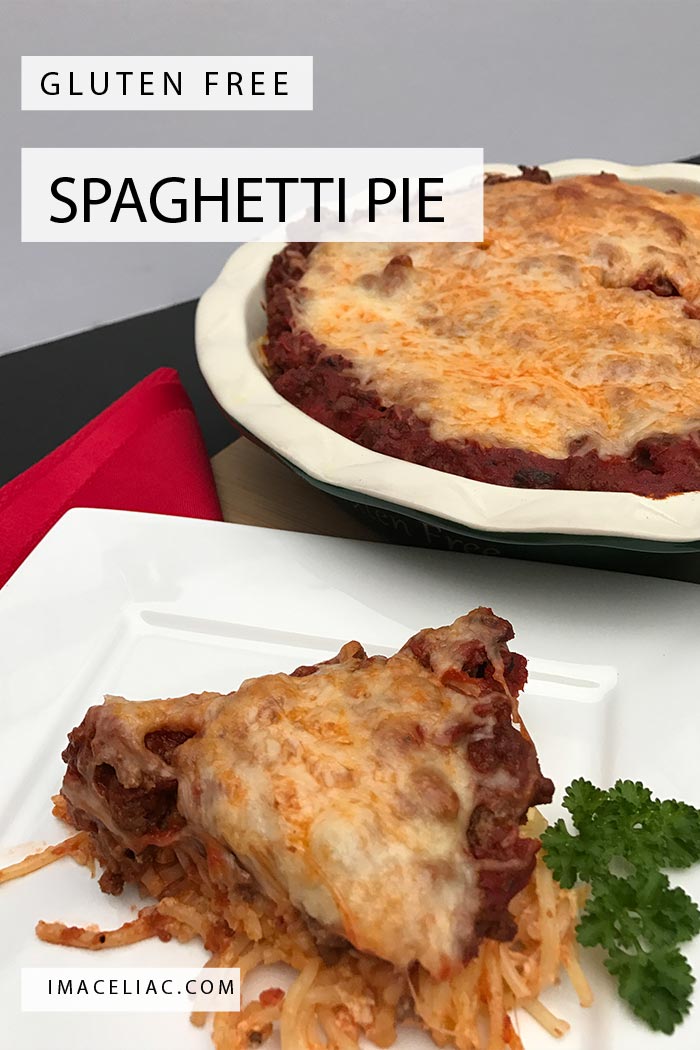 To be honest I'm not sure why it is called "pie". The name was very confusing for the kiddos while I was making this recipe. Comments included: "Does that mean we get to eat dessert first?" and "But I don't want noodles in my pie."  Now once the Spaghetti Pie was cooked and on the table they finally understood. It is simply spaghetti cooked in a pie pan with layers.
The bottom layer is noodles with cheese and an egg while the top layer is meat and tomato sauce. By adding the cream cheese to the noodles you get a creamy cheese flavor and it helps the noodles stay together so it really looks like a slice of pie. Think of the noodles as the crust.
Like many pasta dishes this recipe is great on day 2 and 3 and 4. If you have any leftovers just put them in single serve portions, heat and enjoy.
Ingredients
1 lb. ground beef
1 box GF spaghetti noodles, 12 oz.
1 jar tomato pasta sauce, 24 oz.
6 oz cream cheese, room temperature
1 egg
1/4 cup grated parmesan cheese
1 cup shredded mozzarella cheese
salt and pepper
Instructions
Brown beef and drain excess fat
Add tomato sauce to cooked beef and let simmer while you prepare the other ingredients
Heat oven to 350 degrees
Boil water and cook pasta until al-dente, 6-8 minutes
In a large bowl combine the cooked pasta, cream cheese, egg, parmesan cheese and seasoning
Lightly grease a pie pan
Put the noodle mixture in the base of the pie pan
Cover noodles with tomato meat sauce
Cover with mozzarella cheese and bake for 25-30 minutes
Slice and enjoy
http://www.imaceliac.com/2017/02/baked-spaghetti-pie-gluten-free-recipe.html