Review of Secrets Cap Cana resort and spa in Punta Cana, Dominican Republic. A great destination for Gluten Free all inclusive travel. 
Hubby and I got to run away for a few days to a beautiful new resort in the Dominican Republic called Secrets Cap Cana. We picked it because I knew I could get safe Gluten Free food. We had visited a resort in this chain a few years ago and loved it.
Secrets Cap Cana had been open less than a month when we arrived. We stayed in a Preferred Ocean View King room. The room was gorgeous and the views were stunning.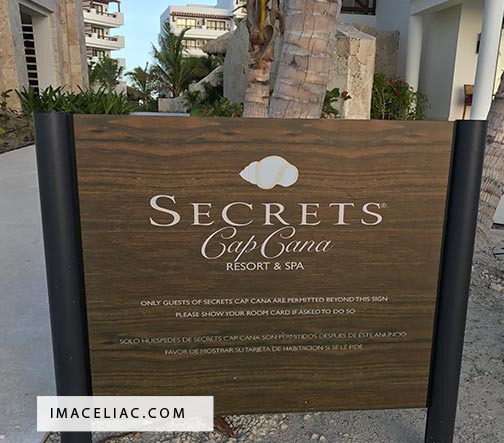 TO DO
We went to just do nothing. We needed a break to just lay around, eat, drink, sleep and enjoy the scenery. Cap Cana was perfect for this! There are pools and lounge chairs everywhere so you can just relax and enjoy the views. If you want to have an active vacation there are daily activities and excursions you can take to local sites. We did take advantage of the kayaking, paddle boarding, beach volleyball and dance lessons.
LATE NIGHT
There is a dance club that is great for dancing and it has huge TV screens playing sports.  They have a theater that has a show each night. We really liked the circus themed acrobatic team.  For a more mellow evening you can sit by the pool bar and enjoy some live music.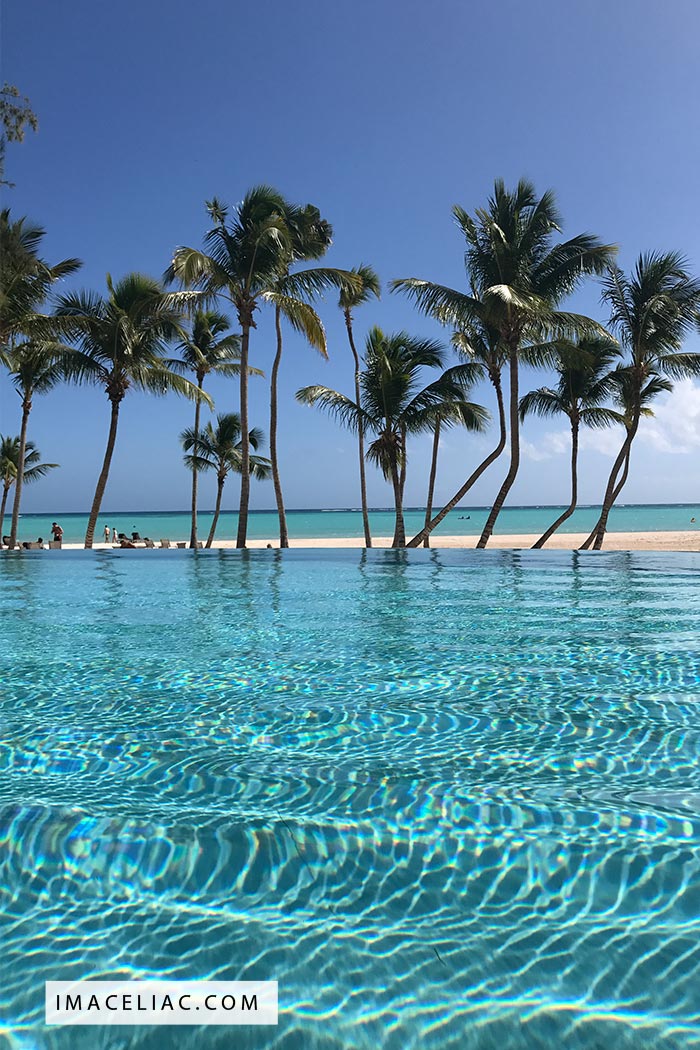 STAFF
The staff were beyond amazing. They made sure everything was "excellente" no matter what our request. We had our anniversary on the trip and our butler brought us a bottle of champagne and a mini cake (not gluten free, but the icing was tasty). The staff learned our names and made sure we had everything we could want.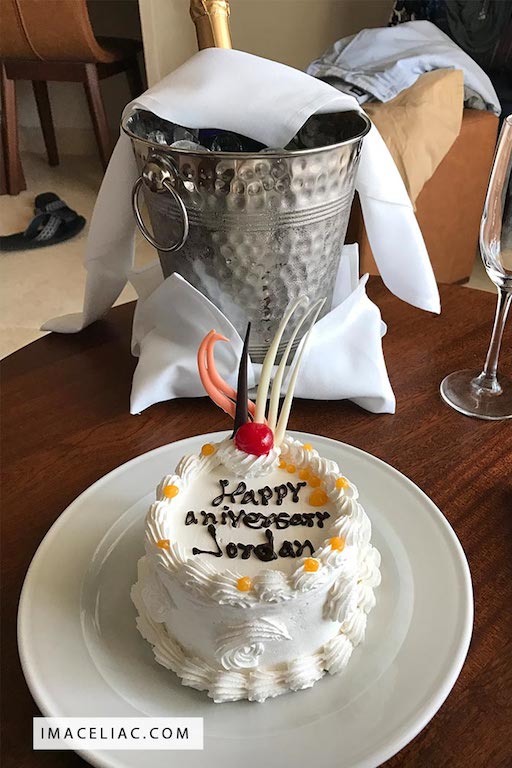 THE FOOD
I was very spoiled in that I was able to eat Gluten Free very easily at the resort. When we arrived I meet with the concierge to get a letter to show the staff telling them I'm Gluten Free and listing ingredients that are not safe for me. The letter was in spanish to make it easy for the staff to understand, however we did not have any language barrier issues.
As soon as we sat down at a restaurant I would show our wait staff the letter and they would send out the manager to go over what menu items would be safe for me. By day 3 the hostesses knew me and told the wait staff I was Gluten Free before I could whip out my letter. Even the room service was easy to get Gluten Free and room service is 24 hours so you can get safe food any time of day.
The resort has 7 restaurants and we were able to visit 5 of them. Here is the run down.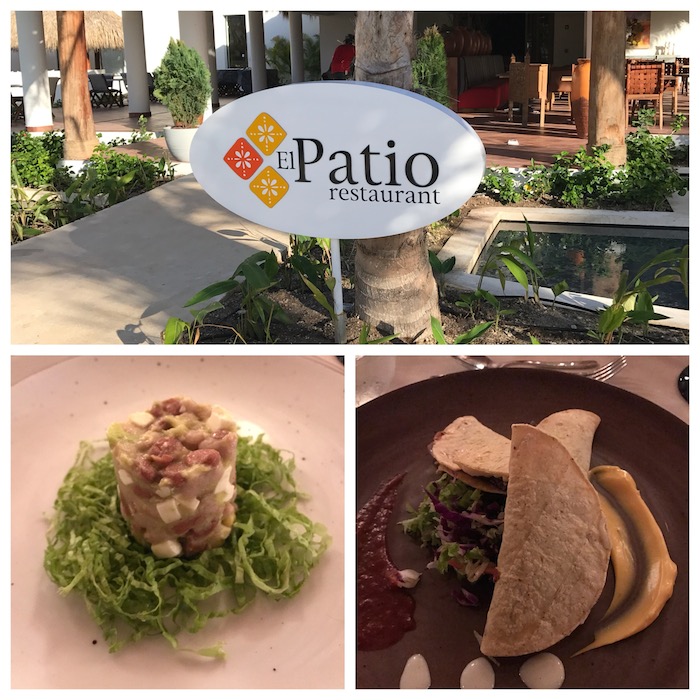 El Patio Restaurant has a Mexican food inspired menu. The chips and dip brought to the table were tasty and safe. I ordered the bean salad and the tacos on corn tortillas. The tacos were legit good! I could have eaten 2 plates of them.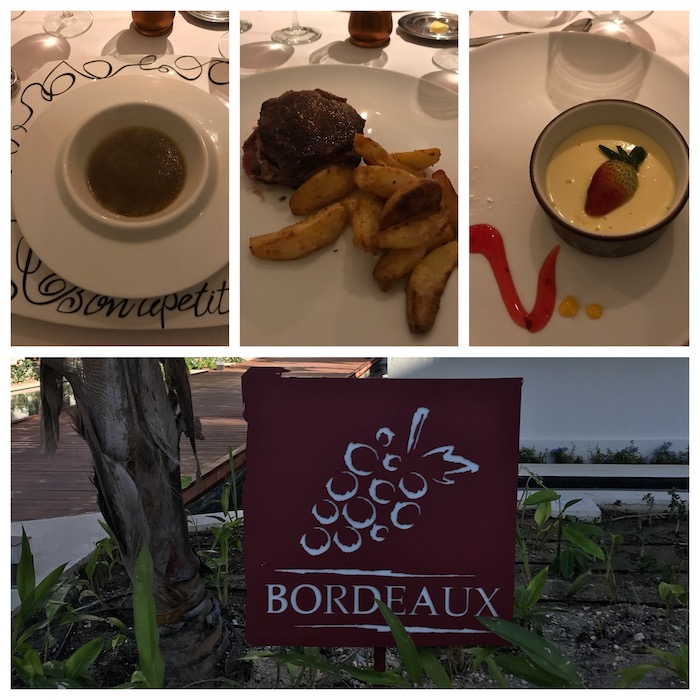 Bordeaux was the French inspired restaurant. I ordered the French onion soup without the croutons, the steak with fries and creme brûlée for dessert. The highlight was the soup, very yummy.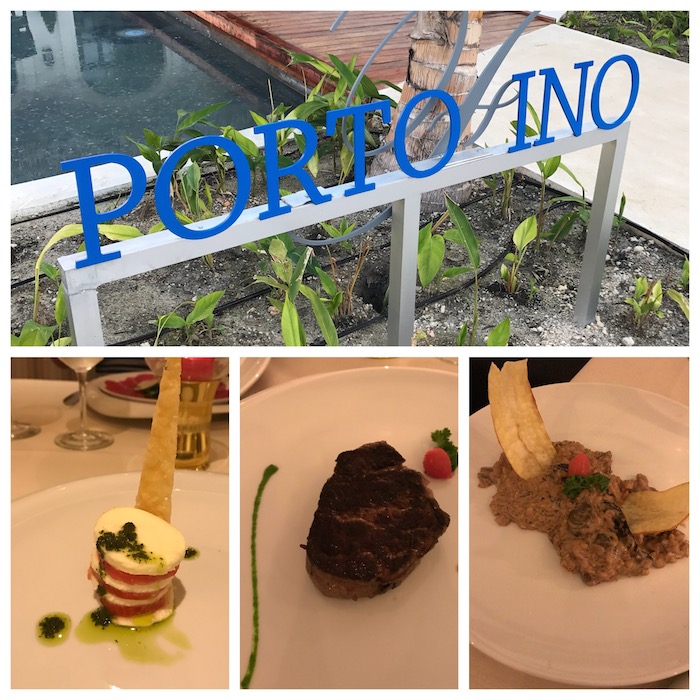 Portofino is the Italian restaurant. They did not have any Gluten Free pasta when I was there but hopefully they will get some soon for future guests. I ordered the caprese salad, a steak and a mushroom risotto.
Our favorite restaurant was the Seaside Grille. It is right by the main pool and has beautiful views of the ocean. It is also open for lunch when the restaurants listed above only serve dinner. We ate here at least 4 times. Of all the restaurants I felt the steak from Seaside Grille was the best. I also really loved the nachos and caesar salad. I will not admit how many orders of nachos I ate but it was a lot.
The buffet, Market Cafe, is open for breakfast, lunch and dinner. It has a number of safe options to eat, just ask one of the chefs to walk you around.
Oceana is a seafood restaurant open for dinner and even breakfast a few days a week. We didn't eat dinner there but enjoyed some tasty breakfasts.  The omelets are really good.
We did not visit Himitsu, the Japanese steakhouse. I just wasn't sure if there would be any safe options for me since soy sauce is a land mind for wheat. I wish I would have asked if there were any safe Gluten Free options, but we just avoided it to be safe.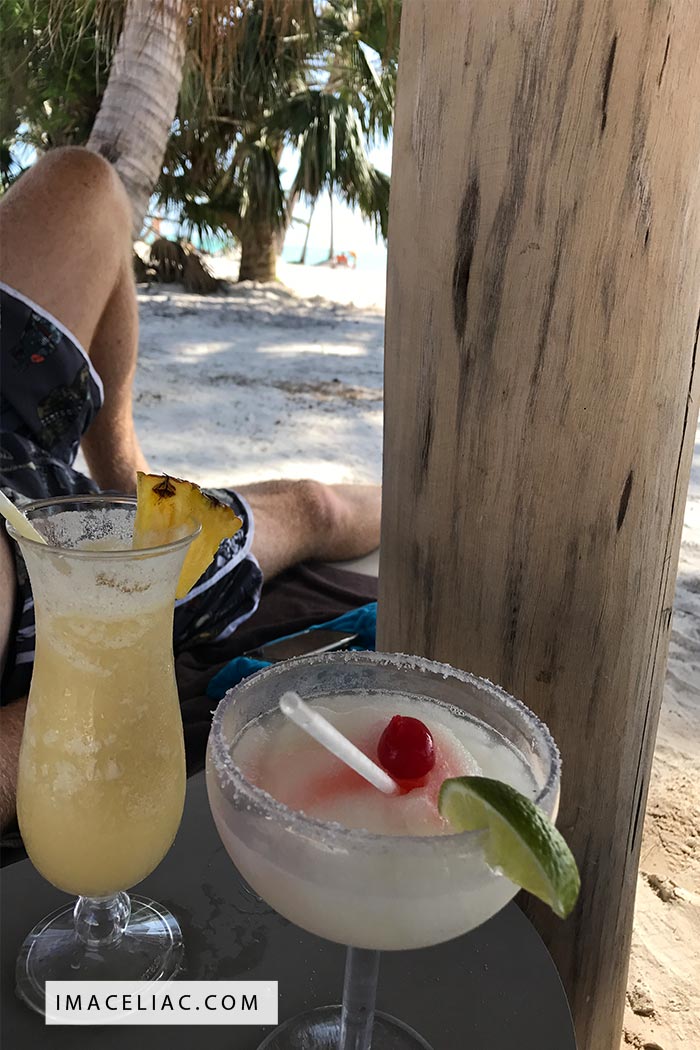 As an all inclusive resort you could drink adult beverages from sun up to whenever you crawled into bed. We really enjoyed fruity drinks on the beach and the endless wine with dinner each night.  The bartenders are a riot and will whip you up anything you can think of. Our favorite bartender was Darwin and he made us the "Darwin Special". It had sprite, cranberry juice, lime and vanilla vodka. I have no idea how many I drank, they were so good.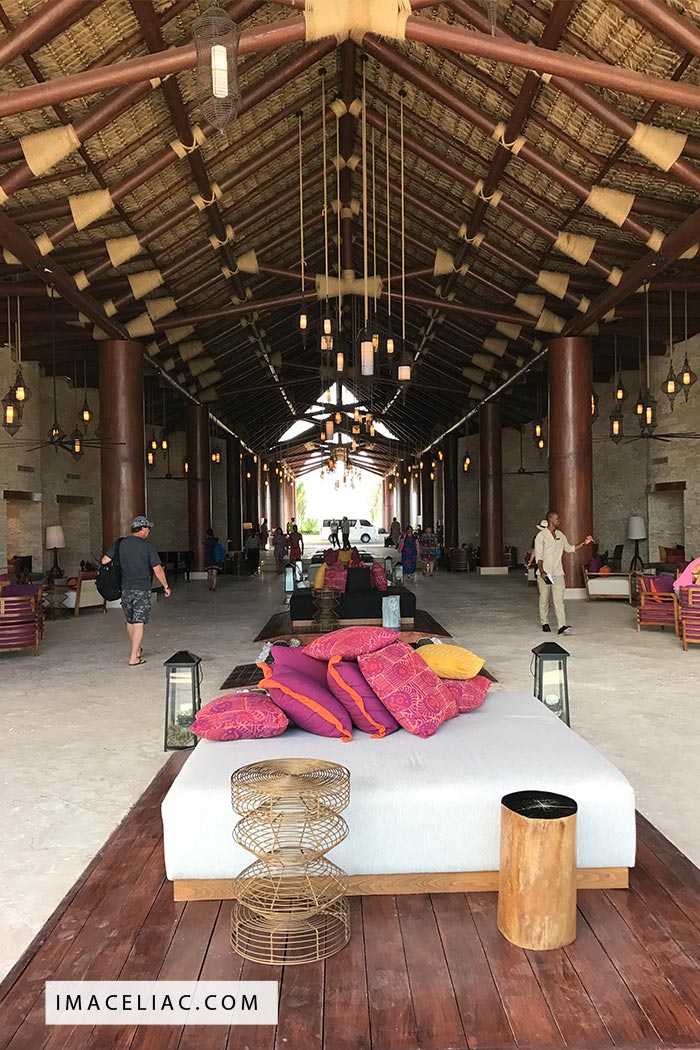 HELPFUL TIPS
The staff works their tail off and although tips are by no means expected they are greatly appreciated. If you tip the bartender you can guarantee you will be well taken care of. We also tipped our wait staff at the restaurants. How much is up to you. We went through around $40 in $1 bills.
At the airport you have to pay a $10 travel fee per person in CASH when you arrive. So make sure you have cash on hand for this process. Customs is easy to get through just make sure you have the $10 per person.
Bring an insulated cup with you. The bartenders will happily serve your drinks in them and the drinks will stay cold longer. On the beach drinks are served in plastic cups that quickly melt your drinks. I suggest either a Tervis or a Yeti. We saw people with both. We brought Tervis Tumblers.
The bugs were pretty much not a problem except at dusk. I brought some Bug Bracelet that I put around my ankles in the evening if we were going to walk around or sit by the pool and enjoy some music.
The rooms have a refrigerator with drinks to include water, soda, beer and juice. Do not drink the water out of the tap, just use one of the water bottles.  The water is filtered for the restaurants. If you are in a preferred room you also get hard liquor bottles, chips and chocolate refilled every day.
Bring a tote bag to carry around your towel, sunscreen, cups, book, etc. for the beach and pool areas. This just makes the process easier and you don't have to keep running back to your room. There is a bag in the closet but it matches everyone else's so bring your own so your chair is easy to find.
The rooms have a coffee maker, steamer, bath robes, good sized toiletries, a TV, a safe and slippers. So you do not have to bring any of those items with you.
Arrange for transportation to the resort ahead of time. There are a number of shuttle/ van services you can pay to take you directly to the resort. When you get out of the airport it is pretty crazy so make sure you have the name of the company handy.
Preferred Club vs. non-Preferred Club. The difference is the Preferred Club guests get access to a separate pool, restaurants, lounge, bar and beach area. The Preferred Club buildings also have better views. I don't like to be limited in where I go and what I can do so we went Preferred Club.
Get up early one morning to see the sunrise. I promise you won't regret it!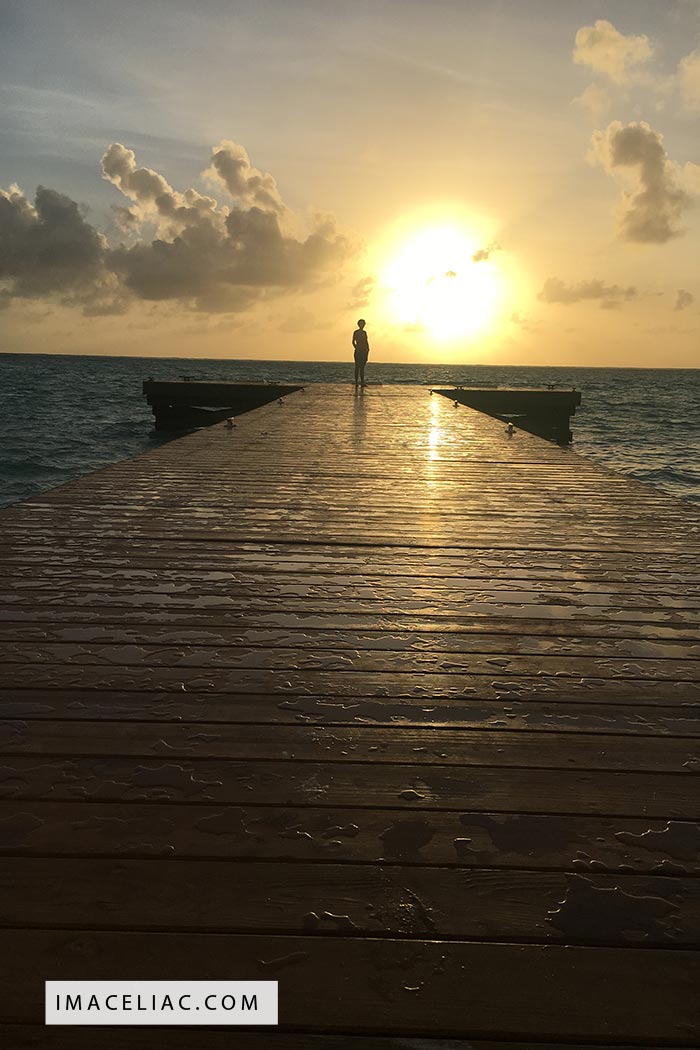 WHAT TO PACK
For a 5 day trip:
Ladies: bring 3 swimsuits, 2 coverups (you need them for the restaurants at lunch. I took this one), 2 pair of sandals (1 for the beach/pool and 1 for dinner and walking around), 2-3 sundresses for restaurants, workout clothes (if you want to use the awesome gym), a hat (I took one like this one), 1-2 short/skirts, 1-2 t-shirts, sunglasses, and a travel outfit.
Gents: bring 3 swimsuits, 3-4 t-shirts, 2 pair of flip flops (1 nice, 1 regular), khaki pants or nice jeans for dinners, 2-3 collared shirts for the restaurants, 2-3 pairs of shorts, and workout clothes.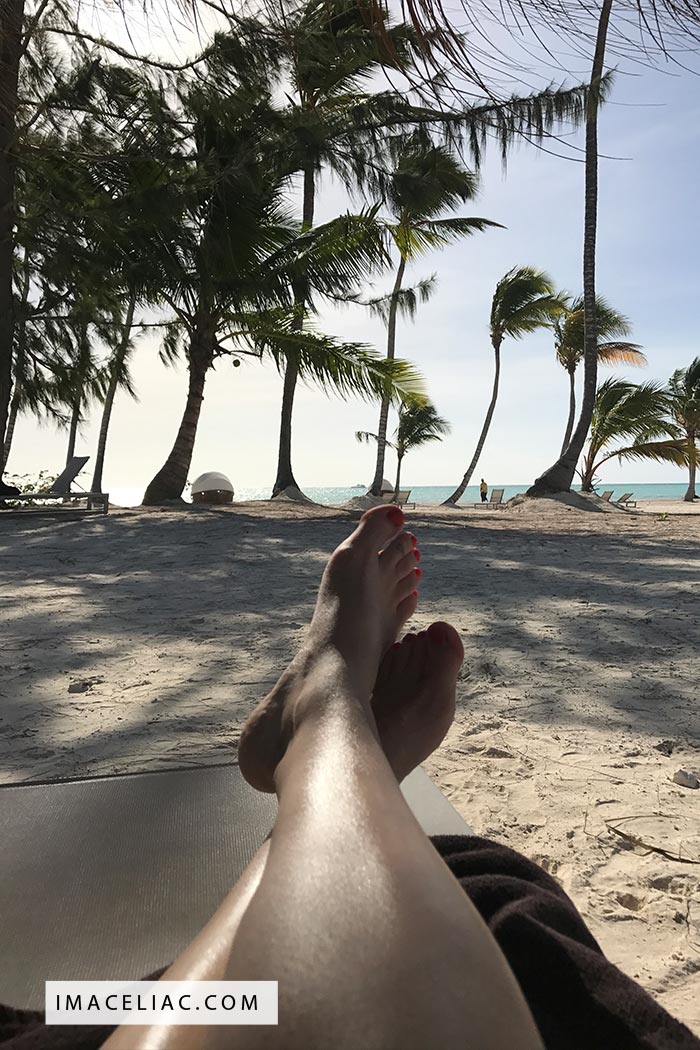 OVERALL
We truly enjoyed our stay at Secrets Cap Cana and would love to go back. The place is truly beautiful and you have amazing views no matter where you are on the property. The staff really care about the guests and do whatever they can to help your stay be enjoyable. As an adult only resort it was nice to enjoy some "us time" without any kids running around.
This is NOT a sponsored review. We paid for our trip and I have received no compensation for this review. The post does have affiliate links to Amazon.