Dinner is coming – here is your Gluten Free meal plan!

Hello friends! Who is ready for another full week?
North Carolina has decided to skip the rest of winter and is going straight into 70 degree days.  We are loving it and spending as much time as we can outside. Saturday we went from park to playground to park. Sunday was church and then the zoo.
This week we will be celebrating Curly's birthday. I have no idea how she will be 8 this year. The saying "The days are long but the years are short" has never seemed so true as it does now. We will have a family celebration on her birthday and a party with family and friends this coming weekend. I just can't wait to celebrate our girl and shower her with love.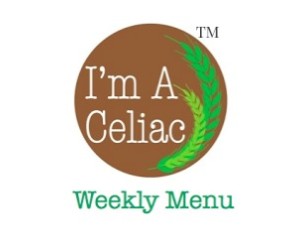 MONDAY – Baked Ziti
TUESDAY –  Taco Salad
WEDNESDAY – Chicken Cordon Bleu
THURSDAY –  Honey Chicken Skillet 
FRIDAY – Baked Chicken Fajitas 
SATURDAY – Birthday Party! Making chili and Crock Pot Mac n Cheese